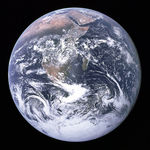 Yesterday, NASA released what it called the "most amazing high definition image of Earth." The picture, a composite of images taken on January 4, 2012, by the VIIRS instrument on board NASA's Suomi NPP satellite, is an updated version of "Blue Marble," one of the most famous NASA images of all time. The original "Blue Marble" (seen at right) was taken in 1972 by astronauts on board Apollo 17. The space shuttle had left Earth's orbit about two hours before they took the picture, and, with the sun behind their position, the entire face of the Earth captured in the image was well lit.
Below, recent Pictures of the Day:
Images: NASA.
We want to hear what you think about this article. Submit a letter to the editor or write to letters@theatlantic.com.