How to Manage Your Relationship With Your Phone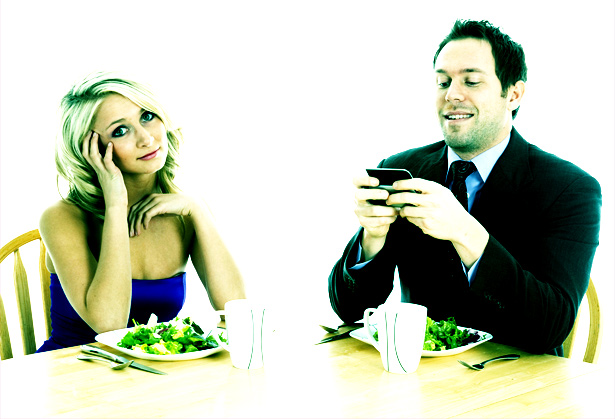 Many people, young and old, complain about how technology is doing this or that to their lives. Writers bemoan the loss of real connections, or whatever they think people did before phones/the Internet/computers ruined everything. Last weekend, for example, the New York Times ran three separate articles on getting away from the plague of always-on communications, as Atlantic contributor Nathan Jurgenson noted.
"In barely one generation we've moved from exulting in the time-saving devices that have so expanded our lives to trying to get away from them -- often in order to make more time," Pico Iyer wrote. "The more ways we have to connect, the more many of us seem desperate to unplug."
Most people I know don't have such heavy objections to technology. They are pragmatists. Most of the time they find their phones and connectivity useful, but sometimes they don't. Sometimes all the texts and Twitter messages seem to strengthen bonds, but other times they weaken them. They understand that the technology isn't forcing them to do anything, even if they suspect that it guides their actions in ways that they need to be aware of.
And for the past couple of days, a great example of this kind of thinking has been making its way around the Tumblr ecosystem. A San Francisco dancer named Brian 'Lil B' Perez and his friends came up with a game to constrain their cellphone use when they're out having dinner. Here are the simple rules:
"Don't Be A Di*k During Meals With Friends."

The first person to crack and look at their phone picks up the check.

Our (initial) purpose of the game was to get everyone off the phones free from twitter/fb/texting and to encourage conversations.

Rules:

1) The game starts after everyone has ordered.

2) Everybody places their phone on the table face down.

3) The first person to flip over their phone loses the game.

4) Loser of the game pays for the bill.

5) If the bill comes before anyone has flipped over their phone everybody is declared a winner and pays for their own meal.
That seems like about the right level of social conditioning necessary to make people think about their technology use. Not soulful wailing, but collective ribbing.
Image: Shutterstock/Poulsons Photography.