How Climate Change Could Reshape the Internet Ecosystem, Too
Melting icecaps may make it possible for cables to run directly from Asia to Europe, bypassing North America.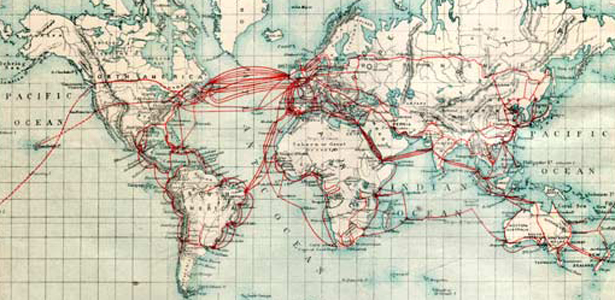 Normally, when we talk about the new routes through the Arctic that global warming may enable, we're talking about cargo shipping lanes, but a new article in Network World claims that a warming Earth may open up new undersea telecom routes, too. The new undersea cables aren't being driven by a need for more capacity, but rather to reduce latency in the network.
There is also discussion that unprecedented, previously unfeasible, Arctic routes now may be possible, because of melting Arctic icecap. These would allow traffic to flow from Asia directly to Europe, bypassing North American networks completely.
This is yet another way that our climate impacts the landscapes of our world, even the ones that you don't think of, like the geography of Internet traffic.
Via Evgeny Morozov

Image: atlantic-cable.com.