New data explore the continent's use of microblogging.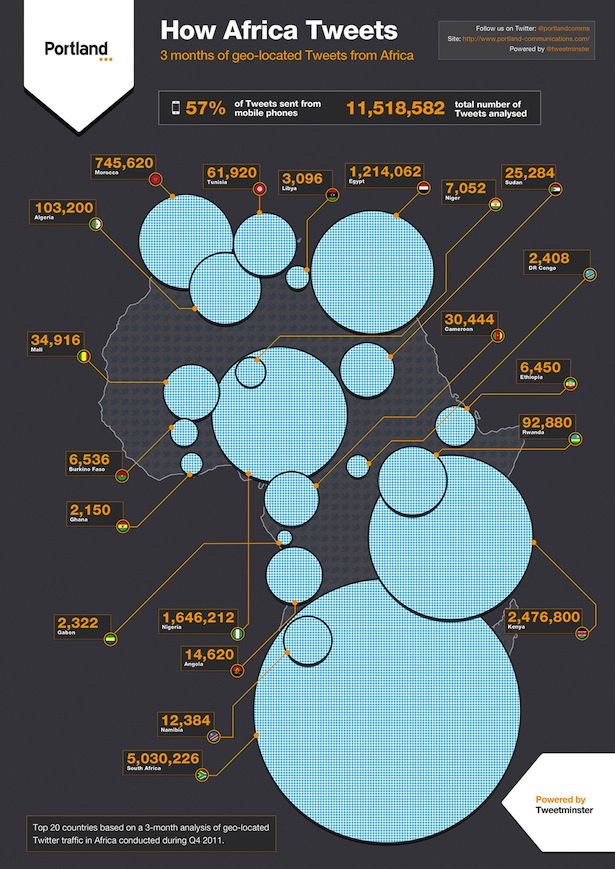 How does Africa use Twitter? In
an analysis
of more than 11.5 million geolocated tweets posted during the last three months of 2011, 
Portland Communications
and the platform
Tweetminster
 gathered data about the continent's use of the social network. Some of their findings are unsurprising, including the fact that the continent's richest country, South Africa, is by far its most prodigious producer of tweets. (In fact, for the last quarter of 2011, South Africa sent out more than twice the number of tweets as Kenya, Africa's next most-Twittering country.)
In a companion survey of 500 of Africa's most active Twitter users, the Portland-Tweetminster team found that the vast majority of those users -- roughly 80 percent -- use the service primarily for communicating with friends. But, fascinatingly, 68 percent of those polled said they also use Twitter to monitor the news, making Twitter a potentially effective, if still nascent, way to circumvent African nations'
generally highly restricted media institutions
. And more than a quarter of the survey respondents said they use Twitter to keep track of job opportunities.
Also worth noting: Just over half -- 57 percent -- of tweets, the analysis found, are sent from mobile devices. Which is actually a surprisingly low number, considering that, 
per a recent report
, 433 million people in Africa -- 53 percent of the overall population -- currently have a mobile cellular subscription, while only 1 million (0.2 percent) subscribe to fixed broadband.
Image: Portland Communications / Tweetminster.