Burger King Has Found a Way to Make Fast Food More Delicious, Disgusting
The chain is experimenting with home delivery via "proprietary thermal packaging technology."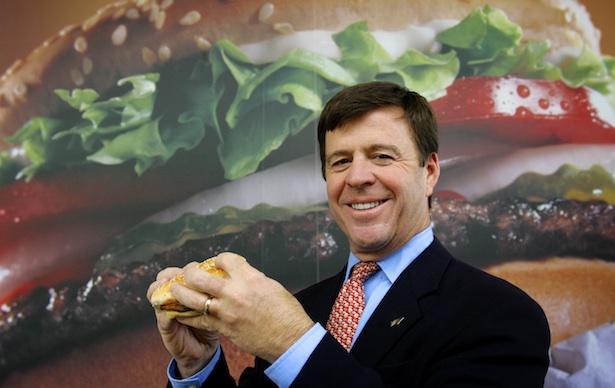 It's an open, sad secret of the food industry: The most basic meal there is -- the burger, with fries -- is stubbornly resistant to takeout and delivery. Indian food, which stews and steams, is generally fantastic for  extra-establishment consumption; so is Chinese; so is, thanks to crucial innovations in box design, pizza. Burgers, though, not so much. The crunchy stuff gets soggy; the soggy stuff gets crunchy; and the whole topsy-turvy mess, to add insult to injury, can't generally be redeemed by a simple zap in the microwave. We drive through, but we eat quick.

I know, tragic.
But this sorry state of affairs might soon be a thing of the past. Burger King has been quietly experimenting with home delivery at four of its restaurants here in the D.C. area. And it's able to do so, says Jonathan Fitzpatrick, the chain's chief brand and operations officer, through the invention of "proprietary thermal packaging technology." Which "ensures the Whopper is delivered hot and fresh, and the french fries are delivered hot and crispy."
This is, in all (okay, most) seriousness, intriguing. Mostly because it's actually hard to imagine what the packaging in question might actually involve. It'd have to lock in enough moisture, microwave-style, to ensure that the food it contains doesn't dry out; it'd have to release enough, though, to prevent those contents from steaming. It'd have to, ostensibly, include some kind of mechanism that prevents the "fresh" ingredients on the burger -- the lettuce, the tomato -- from cooking while the other ingredients are kept warm. I'm imagining some unholy union of the McDLT box and the Malibu Picnic Cooler for Two...but I'll bet the real thing is much more interesting.
The real thing, in fact, could be exactly what USA Today is calling it: "an industry changer."
Image of former Burger King CEO John Chidsey: Reuters.