Ben Franklin's Doodle of a Torricellian Tube Is Detailed and Endearing
Ben Franklin: revolutionary, letter-writer, nerd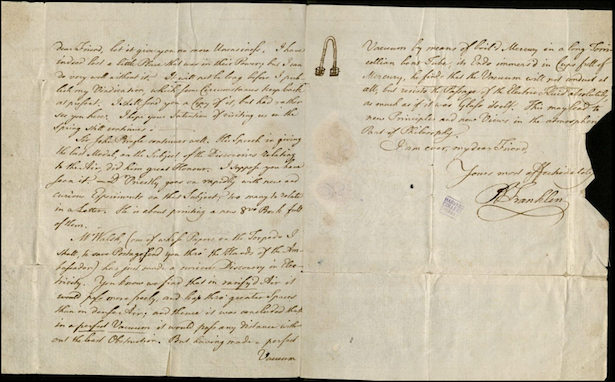 Mr. Walsh, (one of whose Papers on the Torpedo I shall, to save Postage, send you thro' the Hands of the Ambassador) has just made a curious Discovery in Electricity. You know we find that in rarify'd Air it would pass more freely, and leap thro' greater Spaces than in dense Air; and thence it was concluded that in a perfect Vacuum it would pass any distance without the least Obstruction. But having made a perfect Vacuum by means of boil'd Mercury in a long Torricellian bent Tube, its Ends immers'd in Cups full of Mercury, he finds that the Vacuum will not conduct at all, but resists the Passage of the Electric Fluid absolutely, as much as if it was Glass itself. This may lead to new Principles and new Views in the atmospheric Part of Philosophy.
To make things extra-clear for Ingenhousz, Franklin included a doodle of the
perfect Vacuum
--
a Torricellian tube
-- complete with an impressive level of detail, particularly considering the fact that it was etched with a quill.