What Went Wrong With Gmail?
A month into Google's experiment with the design of Gmail, we are safely past the reactionary phase of criticism. Now, we're on to the searing and increasing hatred phase. It feels like Steve Jobs' evil ghost doppelganger went through the interface and made everything just a little bit harder to use. The problems with the new Gmail are not about look and feel; they strike right at the core usability of the software. This is the biggest step back for email since I signed up for Gmail in 2004.
Let me explain why. I use Gmail all day, every day. I also chat with all of my colleagues here and elsewhere through Gchat all day, every day. Well, the new Gmail has made these two CORE functions nearly incompatible. That is to say, writing emails and chatting with people has become a huge hassle.
Here's the problem. See that big text box in which I type hundreds of emails per week? Well, it is obscured by chat windows that I use thousands of times per week. The two basic ways that I communicate are in direct conflict with each other.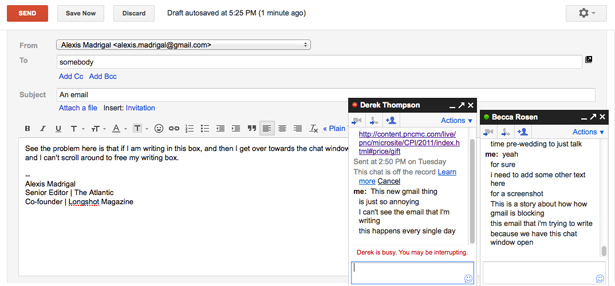 Could I come up with another workaround? Running Gchat in a client, say? Of course, but I didn't have to worry about that before and I could have all my communication in one tab in my browser. It worked great. See that screenshow below? That's how the old interface worked. I could chat to my heart's content and email to my heart's content ALL AT THE SAME TIME. In the new one, I have to minimize my chat windows to see my email. Why would they do this?


It feels incredibly ill-considered not to have thought about the Gchat+Gmail use case. I mean, how many information workers today use these tools together?

Which leads me to the key question: what happened, Google? We know that designers at the company use tons of data to come up with their user interfaces, so why do things keep going wrong with the company's product releases? Is this a case of Big Data overruling Simple Common Sense? Where was the guy in the meeting who should have asked, "But what if someone wants to chat as they write an email?"