Twitter Gets a New Look, Allows You To Embed Tweets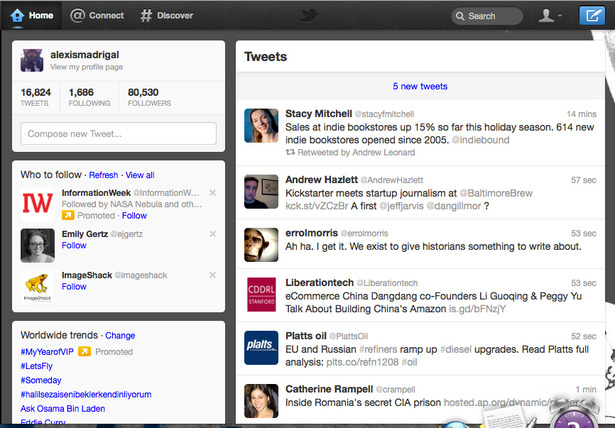 This is the new look of Twitter. It will roll out to everyone over the next two weeks. I don't have much to say about it at this point. I like it, I think, and I imagine that I'll continue to use the site to augment my Twitter client. The interface is clean and most everything seems to be easily accessible with the exception of direct messages, which are now buried a couple clicks deep.
One important change is the ability to embed tweets, a function that outside services like
Storify
had come to provide. Now there is an official way to stick tweets in blog posts. E.g.:
Our occupy-inspired book with @VersoBooks is available now: shop.nplusonemag.com/products/occup..., all proceeds go to OWS.

-- n+1 (@nplusonemag) December8, 2011
I have a feeling that I'll end up using this official embedding option alongside the more informal ways that I've developed to quote people from Twitter.