The Perfect Guilt-Free Device for the (Green) Apple Freak in Your Life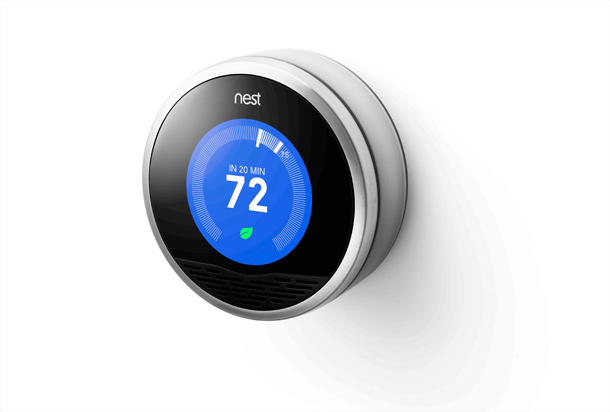 From your gadget-obsessed sister (who lives for her iPad) to your garden-obsessed uncle (who thinks apple is a fruit)
A special report
Energy efficiency is about as sexy as a pile of granite. Put it this way, one easy way to save fuel is to drive slower. Not exactly live fast, die young territory.
However, in recent years, people in Silicon Valley have taken an interest in an area dominated by construction workers and mom-and-pop energy evangelists. And Apple being dominant these days, many are eager to preach from the gospel of Steve.
It's this confluence of trends that led to the creation of the Nest "learning thermostat." The thermostat is the brainchild of some ex-Apple employees including Tony Fadell who was senior VP of the iPod division. The pitch is simple: the Nest is a hot-looking gadget that should pay for itself in a few years by saving you money on your energy bills. Armed with six sensors, the Nest can tell if you're not home and turn down the heat. It's also got Wi-Fi built in, so it's connected to the Internet and you can change your settings via an iPhone app. And it plugs right into your existing thermostat controls. (The company says that if you install the device yourself, it should only take 20 minutes.)
Perhaps the most exciting thing about the Nest is that it's supposed to fix the problem of programmable thermostats, which is that no one ever programs them. Instead, you just turn it up or down and it figures out how you like your home climate to be conditioned. Every time you change the thermostat, that's a signal to the Nest's software that it needs to fix its algorithm. It learns.
There is only one problem with the Nest right now. The device is sold out through early next year. So, if you want to get this for the green Apple freak in your life, you'll have to give them an IOU and pick one up early next year.