The Perfect Book for The Person Who Thinks Twitter Is About Sharing Pictures of Lunch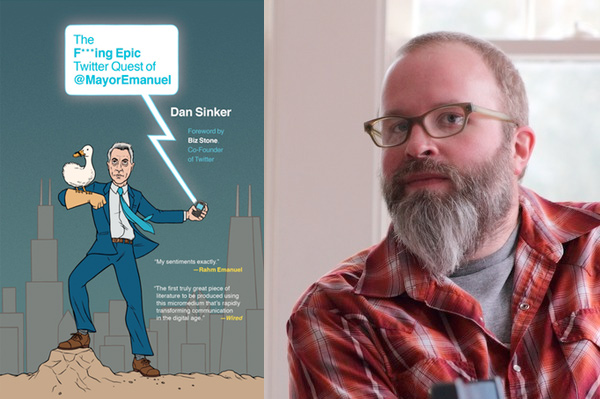 It was almost a year ago when the first truly great piece of literature arrived on Twitter. A parody of Rahm Emanuel's Chicago mayoral campaign made a magical leap from profane joke into... an epic in tweets.
From your gadget-obsessed sister (who lives for her iPad) to your garden-obsessed uncle (who thinks apple is a fruit)
A special report
As it happened, the man behind @MayorEmanuel, Dan Sinker, then a journalism professor at Columbia College, revealed himself to the world through our humble Technology Channel.
Sinker was suddenly thrust into the limelight. Some of the attention was annoying: Mere hours after our story went up, there were TV news trucks on his family's front lawn. But some great things came out of it, like a book deal with Scribner that resulted in, "The F***ing Epic Twitter Quest of @MayorEmanuel." The book is a direct reproduction of the original Twitter stream with extra context and commentary thrown in. While the temporal and responsive aspects of the Twitter narrative become compressed in book form, it's actually easier to see the brilliance of Sinker's 140-character prose-poems when they're laid out flat. Here's what we said about it earlier this year.
The glory of @MayorEmanuel was that it exposed the dark humor that political operatives know and love, mixed with the drunken idealism that tends to drive the politicos. Politics is desperate and raw and exhausting, yet on TV it looks so polished and prim. It's a knock-down, drag-out war in which everyone has to fight in their Sunday best. @MayorEmanuel looked at that state of affairs and started cussing, not unlike what a lot of us do when we look at our politics. This take on politics would not be airbrushed, edited, or watered down. All the things public politics downplays, this feed would expand and celebrate. This feed would be festooned with anger and the drive for power and the f-word. It was the inverse of the real Emanuel campaign, or as the [Chicago] Tribune called it a "brilliantly imagined and unrestrained counter-script."

As a gift, this book is perfect for people who think that Twitter is only "celebrities talking about what they had for lunch." And it's also perfect for people from Chicago. And it's also perfect for heavy Twitter users who want to see the first time a brilliant writer elevated the form they know and love.