The North Pole of the Web: Why Are Christmas Sites So Weird?
Searching for Christmas is like getting into a time machine that takes you back to a bizarro 2001 in which every single web surfer is a sucker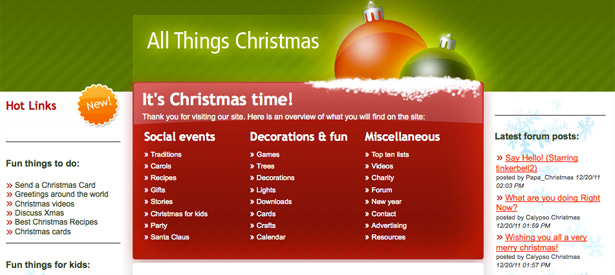 Internet search-engine-optimization lore holds that the sites listed in the first page of search results receive 90 percent of the clicks from web surfers. So, in a sense, those top 10 results form what the vast majority of people are going to learn about a given topic on the Internet. We half-jokingly call the first page of results, "The Known World," and this story is going to take you on voyage to what that terrain looks like for the Google query, "Christmas."
The first two links are solid and boring. The first, as for many other important topics, is Wikipedia; The second is history.com's Christmas page. But then things start to get interesting and kind of weird.
Looking at the rest of the top search results for Christmas is like getting into a time machine that takes you back to a bizarro 2001 in which every single web surfer is a sucker. There are "Hot Links!" and "Fun Things to Do." What we see is the ad hoc, de facto social network formed by people who type Christmas into a search engine. And man, that network is like MySpace for your great aunt who has too many cats.
Northpole.com holds down the third slot. The site was launched in 1996 and still has that pre-Wordpress look. Northpole is dotted with hand-drawn artwork of elves and Christmas trees, but it's a pretty sophisticated search-engine optimization operation. The first page contains a list of very long links like, "Send Santa a letter and he'll write you back." Interestingly, for such a high-ranking page on big-time keyword, Northpole only has a page rank, a measure of how often a site gets an incoming link, of 5 out of 10. That means there are other signals that Google's algorithm is looking to in making it the highest-ranked independent site. I'd suggest longevity might be one of them, given the site's 15-year history.
Oddly, the Georgia-based site's largest sponsor is Restaurant Technology Incorporated, which was also Checkers' Drive-In Restaurants' "Supplier of the Year." Such are the relationships that keep the Christmas website niche going.
AllThingsChristmas follows Northpole. Launched by a web designer named Deborah Wipp "from her home in Tallahassee, Florida" during summer of 2000, the site is now owned by a Danish company called InternetKom ApS. The single reference to Wipp on the site is the only mention of her name on the searchable Internet (until now).
ATC, like all the other Christmas sites, appears to consider a Christmas countdown clock essential. This is surprising given that their audiences must be composed exclusively of people who not only know on which day Christmas falls, but love the 25th of December.
After that, Google shows a belt of images. The first is a tiny PNG from Wikipedia on which you can barely make out the baby Jesus. Then there is a cabin covered in a couple feet of snow and a cartoony tree with oodles of presents under it. Finally, there is an image labeled "beautiful-Christmas-tree" that appears to be a computer-generated rendering of a tree that emits strange purple light.

The legacy sites continue with MyMerryChristmas.com, which appears to be the centerpiece of the "Merry Network," and is run out of Sandy, Utah. The owners of the site also own the phone number (877) NET-XMAS.
The first major media Christmas site enters the top list at number six. Disney's Kaboose Christmas microsite may contain A-list advertisers, but the nature of the content is nearly identical to other sites. That is to say, it is filled with recipes and projects like "Easy Coffee Filter Angels."
At seven, we finally get some serious knowledge dropped on us. The Catholic Encyclopedia hosted at NewAdvent.org has as much on the religious provenance and traditions of the holiday as you could ever want. After the commercial nature and early 2000s web design of the other sites, the Encyclopedia's text-rich design and lack of animated Santas is like balm for the soul. It is also a throwback, too. Encyclopedias and other storehouses of knowledge were all over the Internet I grew up with in the 1990s.

Next up, we find
Santas.net
, an admirably stripped down site. It exists as a list of links to "Christmas in Africa," "Christmas in African America," "Christmas in Alaska," "Christmas in America," "Christmas in Argentina," through "Christmas in Wales" and "Christmas in Yugoslavia." On these pages, we learn of the various traditions of Christmas around the world, although without any sourcing or evidence. Nonetheless, I like the strange, simple language. Here's an example from "Yugoslavia":
In Yugoslavia, children celebrate the second Sunday before Christmas as Mother's Day. The children creep in and tie her feet to a chair and shout, "Mother's Day, Mother's Day, what will you pay to get away?" She then gives them presents. Children play the same trick on their father the week after.
Finally, Google displays two YouTube videos about Christmas. One is a Charlie Brown Christmas clip, which is a fair play as far as I'm concerned. But then there is a video that was uploaded in 2006 by a random person. Allow me to attempt to explain how horrifyingly awful it is.

The clip consists of pans and zooms over Thomas Kincade-style paintings of cliché Christmas scenes. A Backstreet Boys (!) Christmas song plays in the background. At some points, computer generated snowflakes fall down the screen, in one case just as a Backstreet Boy sings, "Snowflakes falling." Yes. This is all true. See for yourself:
Last, but not least, we have the Google news feed for Christmas. When I looked, it was led by a Time story headlined, "'Christmas Tree Syndrome': Not As Fun As It Sounds." It's about how Christmas trees give some people allergies. To prevent this problem, which is caused by mold on the trees, they suggest washing the tree off.

There is a corollary problem that I encountered while writing this article that I call Christmas Site Syndrome. It comes from staring at too many saccharine elves and ruddy Santa cheeks. The only (and I mean only) remedy is to run to track down a copy of David Sedaris' brilliant skewering of Christmas traditions from around the world, first published in Esquire as, "Six to Eight Black Men."

While eight flying reindeer are a hard pill to swallow, our Christmas story remains relatively simple. Santa lives with his wife in a remote polar village and spends one night a year traveling around the world. If you're bad, he leaves you coal. If you're good and live in America, he'll give you just about anything you want. We tell our children to be good and send them off to bed, where they lie awake, anticipating their great bounty. A Dutch parent has a decidedly hairier story to relate, telling his children, "Listen, you might want to pack a few of your things together before you go to bed. The former bishop from Turkey will be coming along with six to eight black men. They might put some candy in your shoes, they might stuff you in a sack and take you to Spain, or they might just pretend to kick you. We don't know for sure, but we want you to be prepared."

This is the reward for living in Holland.
Listen to the whole thing below. Sedaris voice is a gift to the people of Earth.