The Hacking Tyler, Texas, Project: A Visual Police Scanner
This is the latest installment in Christopher Groskopf's attempt to open up the data of the town in Texas to which he's moving. Read about the genesis of the project here.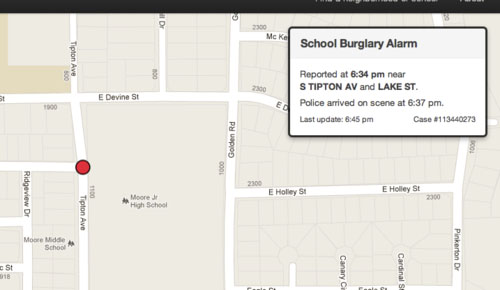 Tyler Sirens (launch the app here) presents nearly-up-to-the-minute incident report data from Tyler Police Department. However, if it were just that it wouldn't be much different from the Tyler Morning Telegraph's Police Call Map. What Tyler Sirens adds is real-time updates. If you leave your window open and a report comes in (or is updated), the map will instantly update and display the newest information. It's less like looking at a map of what's happened and more like listening to a police scanner. (For the geeks out there, this is built on Pusher. Oh, and there is an API. And, of course, it's  open source.)
This project came about because of my fascination with a singular set of data made available by the Tyler Police Department:

This dataset is updated every two minutes and lists, with important exceptions, all the incident reports that come in to the police. Censored from the list are certain sensitive crimes, such as Sexual Assault and Suicide. Violent crimes are delayed up to fifteen minutes so police can secure the scene. There is a FAQ that describes all the limitations of the data.
While it's important to keep what is left out in mind, it's also worth recognizing just how rare a dataset like this is. In many places--including my favorite metropolis, Chicago--the idea of getting real-time data from the police is almost unthinkable. (Though I have discovered that a few other cities, including Memphis and  Colorado Springs, have similar systems.) So how did this forward-thinking open data innovation come about in east Texas?
It turns out the ACL was a capstone project of four students at the University of Texas at Tyler Computer Science department. They worked with the police department's IT staff to implement the system. I think it goes without saying that this is a pretty remarkable collaboration between the university and the local government. And though the final product has certain, shall we say, idiosyncrasies (the RSS is completely invalid) it's an impressive accomplishment and a fascinating source of useful public information.
There is much more to be done with this data. In fact, Tyler Sirens is more of a demo than a useful application. This information, with more work and, perhaps, some improvements from the Tyler Police Department, could power real-time traffic alerts, emergency notifications or give citizens an unprecedented window into what is happening in their neighborhoods. (While testing I spotted what appeared to be a rash of automobile burglaries around Tyler Junior College.) These initial reports could even be correlated with the Police Public Information Reports for accountability and responsiveness analysis. It's a tantalizing example of open data without pretension. I love to think about what could be built if we knew what the all of our government was doing every two minutes.