ProPublica Unveils a New Web-Journalism Feature
A tool from the investigative journalism shop allows readers to see a fact's source directly in the text of a piece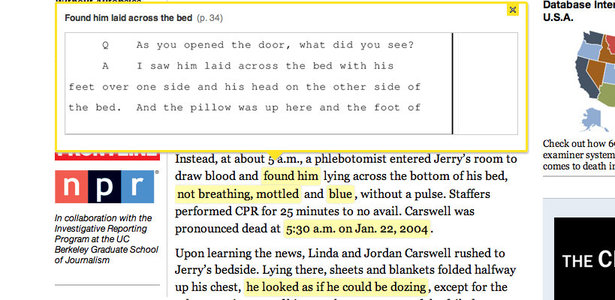 The investigative news shop ProPublica debuted a new feature today that allows readers to easily see the sources a reporter used to craft a story, embedded as a layer into the text itself. ProPublica explained on its "Nerd Blog":
We're debuting a new feature today as part of Marshall Allen's story about one woman's fight with a Texas hospital to find out how her husband died.

In the course of reporting the piece, Marshall made over 500 annotations in 64 documents he uploaded to DocumentCloud, many of which were sources of facts in his story. We thought readers would find these annotations useful, and may even use them to explore the documents on their own. However, we didn't want to show them in a separate graphic or interactive feature, but rather sprinkled throughout the story itself.

So we made a special feature we're calling Explore Sources. To try it, click the "ON" button next to "Explore Sources" at the beginning of the article. Words and phrases throughout the piece will turn yellow. Click these yellow highlights to see the portion of the source document from which Marshall got that fact. Once the annotation is visible, click the document image inside of the popup to go to the full document in DocumentCloud, or anywhere else to dismiss it.
But the feature isn't only useful for readers, as Steve Myers notes at Poynter:
Though Allen said he's a careful reporter already, this approach "made me very conscious that I better make sure I get this right. ... If you're inviting people to look at your source material, you have to realize they might do that."

As he went through the story and added each link, he ended up fact-checking his work again.

"It's really a great fact-checking tool," he said. "When you annotate, you go, 'Is that really what they said there?' "
This kind of "Footnotes 2.0" tool makes a lot of sense for investigative reporting, but it's easy to see how it could be used to improve business reports, academic papers, and political speeches and white papers. At it's heart, it's a more immediate and robust style of linking, and linking is something special about the web. It's great to see a tool that takes advantage of that capability.
Image: ProPublica.