Online-Piracy Debate Begins on Contentious Note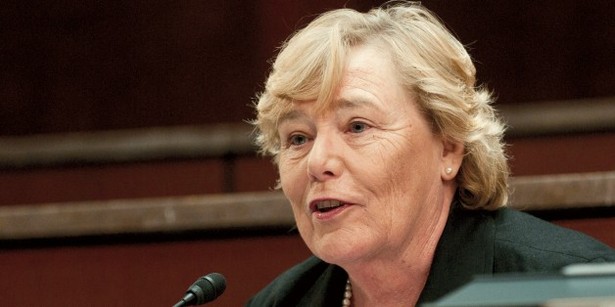 The House Judiciary Committee began what is expected to be a long and contentious markup of legislation on Thursday to curb the growth in foreign websites that offer pirated movies and music and counterfeit goods.
Following weeks of intense lobbying by both sides, the session began on a sour note when one of the bill's most vocal critics, Rep.  Zoe Lofgren, D-Calif., refused a standard request to waive the reading of a manager's amendment to the bill offered by Judiciary Chairman Lamar Smith, R-Texas. Her move delayed actual work on the bill by more than an hour.
---
MORE FROM NATIONAL JOURNAL:
Fort Bragg Speech Evokes Memories
White House Rescinds Veto Threat
The Don James Campaign
---
The bill is strongly supported by a broad coalition of groups and companies that make copyrighted works such as movies, music, and books, and trademarked products from running shoes to car parts. They argue that they are being robbed of billions of dollars in revenues from pirates and counterfeiters based abroad - outside the reach of current U.S. laws.
The legislation would give the attorney general authority to seek a court order that could require payment processors and online advertisers to stop doing business with sites "primarily dedicated to illegal or infringing activity." It would bar search engines from returning results for such sites. The bill would also allow a court to order service providers to block U.S. users from accessing the sites.
"All we're trying to do here is stop online piracy," said Judiciary ranking member John Conyers, D-Mich. "Now since when did the opposition get so fierce against this? What could be behind the motives of people or organizations that don't think stopping online piracy is something that we need to deal with?"
The bill's opponents said while they agree that online piracy and counterfeiting are serious problems, they worry about the bill's impact on the integrity of the Internet, free speech, innovation, and efforts to enhance the security of the domain-name system.
Leading tech companies including Facebook, Google, and Twitter oppose the bill, as do Internet engineers, entrepreneurs, venture capitalists, and privacy and free-speech advocates. Critics have proposed at least 60 amendments that may be offered to the bill and debate on the measure could be pushed into a second day. "This bill is not ready for prime time," Rep. Darrell Issa, R-Calif., said.
Lofgren argued that the technology that could keep U.S. users from accessing foreign infringing websites is similar to what is being used by countries like Iran and China to censor the Internet. "We have one Internet today that has standards that are internationally accepted. If we engage in this diversion scheme ... it's going to lead to a balkanization of the Internet," Lofgren said.
Rep. Howard Berman, D-Calif., who also serves as the ranking member on the Foreign Affairs Committee, bristled at Lofgren's comparison. "Equating life in the United States after a bill like this were to pass with what China or Iran or other countries do with respect to suppression of Internet communications, that's nonsense," he said.
Image: Chet Susslin.