Museum as Node: What to Love About the Walker Art Center's New Website
The Minneapolis museum makes a play to become a networked cultural powerhouse
The Minneapolis museum makes a play to become a networked cultural powerhouse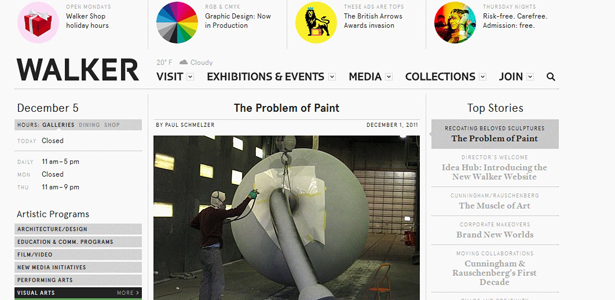 The Walker Art Center launched a new website last week that should be a model for other institutions of all kinds. The site repositions the Walker, in the words of Artlog, "at the center of the global conversation about contemporary art," by incorporating ideas, words, and art from far outside the museum's walls.
The Walker is in Minneapolis, a wonderful city that is not near the physical centers of contemporary art production. Nonetheless, through smart curation and creative engagement, the museum has become an international symbol for how to make an arts venue work in a medium-sized city. From afar, it has always seemed like a place (much like MCA Denver) that was bursting at the seams of its geographical location. So perhaps it is no surprise that the Walker decided that it could succeed by becoming "a new creative platform" as director Olga Viso put it
In the physical world, cultural institutions thought their authority derived from their precious collections of irreproducible objects. On the Internet, every website is successful to the extent that people want to reproduce -- on their own screens -- whatever culture you happen to be making. So, it takes a considerable shift for museum directors and their patrons to somehow want their collections flung across the world, every single person making her own 'print' of a painting each time she opens a browser and surfs to a museum collection.
Museums have options. One, they can stay off the web, hoarding their treasures offline and doing what they've always done. Two, they can dabble on the web and try to use it as a marketing platform to maximize the value of their physical spaces. Three, they can take advantage of the Internet's reach and figure out a way to become valuable within the new paradigm. We've seen a lot of options one and two, but the Walker is a definitive step down the third way.
In a networked world, people and institutions become valuable by becoming important nodes. That means taking on some (but not all) of the attributes of a media company. Museums can continue to pull people inward, but they also have to push content outward. They have to learn to exist within different, overlapping ecosystems -- Tumblr, Twitter, the art blog networks, cultural institution sites -- and figure out how to receive ideas and content from those places, not just broadcast to them.
The Walker's director has called their concept "the idea hub." I tend to be suspicious of how hub-like an institution intends to be, especially if a marketing department is anywhere near the controls. But The Walker's new site is helmed by Paul Schmelzer, who has long run the excellent Eyeteeth blog. If anyone can figure out how to turn The Walker's website into an art mag frontend for the museum's collection, Schmelzer can.
What I love most about what the Walker is attempting to do is that they seem to have realized that they can do more than stave off a slow spiral into irrelevance. The Internet means that the Walker can become a global art powerhouse from the comfort of the upper Midwest.
Image: Walker Art Center.