How an Improved Campus Alert System Helped Virginia Tech
The university used social media, emails, and texts to quickly and clearly warn the campus about yesterday's shooting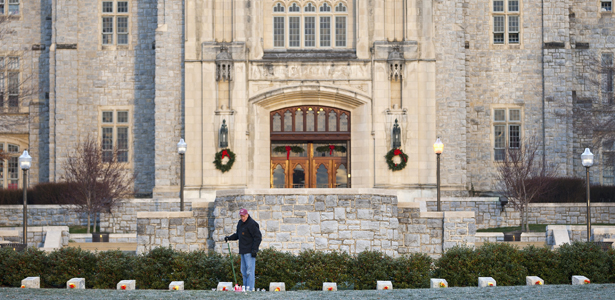 On April 16, 2007 Seung-Hui Cho killed two people in a dorm on the Virginia Tech campus. It wasn't until 9:26 AM -- two hours later -- that the university emailed campus with an alert about a "shooting incident" in the dorm. It didn't say that anyone had been killed. Within 20 minutes of that email, the first 911 calls started coming in reporting shooting in a classroom building, where 30 people would die. The U.S. Department of Education later fined the school for the delay.
Those two hours haunt the university's administrators, and during yesterday's shooting in which two people were killed, they were much quicker, clearer, and more effective in their warnings to the student body. USA Today reports:
The first calls reporting the shooting came into dispatch at around 12:30 p.m., said university spokesman Larry Hincker. At 12:36, dispatch issued its first of six alerts while the campus was on lockdown, which went out by text messages, e-mail, the university's website and Twitter, and its public address system, which broadcast the alert campus-wide.

It reported "gun shots reported ... Stay inside. Secure doors." The next, 10 minutes later, provided a detailed description of the suspect -- "gray sweat pants, gray hat w/neon green brim, maroon hoodie and backpack" -- and 25 minutes later the school sent news that a police officer has been shot and of a potential second victim.

Charles Steger, the university president, said he was pleased with the speed of the alerts. The technology to broadcast alerts in several different ways did not exist in 2007. "It all worked," he said.
For the most part though (besides Twitter), it's not the technology that's new, but the school's willingness to use it.
Image: Reuters.