Hate the Washington Post's Social Reader Facebook App? Try This Fix
A Chrome extension helps you read Washington Post articles through Facebook without broadcasting each click to the world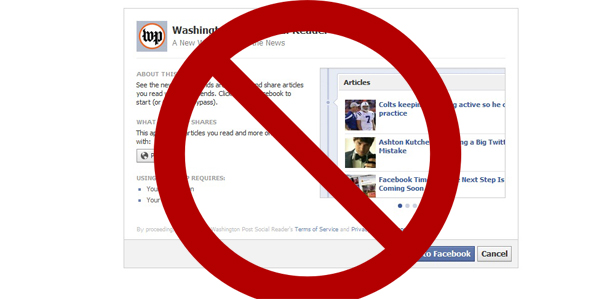 The Washington Post's recent Facebook app, its "social reader," is a tease. Oh look, your friend read an interesting article, want to read it too? Yes? Well, you'll have to register, and once you do so, all the articles you read will be broadcast across Facebook. It's the beauty of Facebook's much touted "frictionless sharing."
This has made a lot of people unhappy. But now there's a fix! For those of you using Chrome, developers Nik Cubrilovic and Brian Kennish have created an extension that will automatically redirect you to the Washington Post website's version of the story, TechCrunch reported this morning. (If you use Firefox, clicking cancel on the page where it asks you to add the WaPo app has the effect, albeit with one more click necessary.) Their program, to which they've given the slightly snarky name "Frictionless," can put you back in control of your WaPo reading experience.
Image: Facebook/Wikimedia Commons/Rebecca Rosen.