An Eerily Beautiful Music Video Shot With Xbox Kinect
A lush music video for New Look's "Nap on the Bow" creates a rippling underwater world with Xbox's 3D camera
Tim Main and Joe Dixon's lush music video for New Look's "Nap on the Bow" creates a rippling underwater world with Xbox's Kinect camera. The ghostly shapes are based on depth information from the Kinect's infrared laser, which tracks 3D objects in space.
"These images with their crude beauty really appealed to us," the directors explain in a post about the making of the video. This luminous image reveals the infrared points that capture 3D information: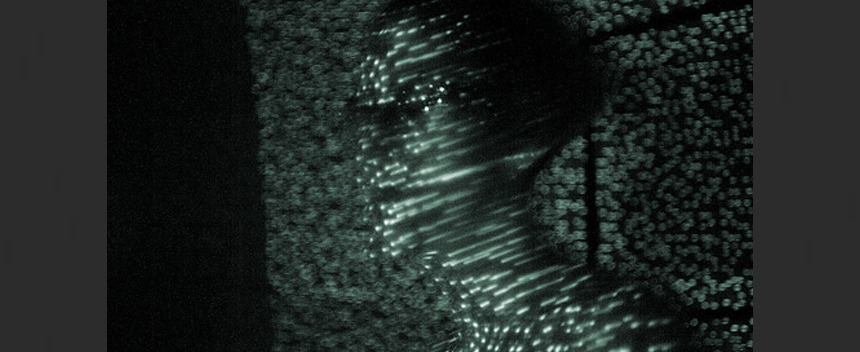 Working with the visual effects company Munky, they transformed the Kinect data into an evocative landscape, shooting elements separately and combining them in post production. They describe the process:
The way the Kinect captures in 3D meant we could add camera moves and changes in focus afterwards. We were also able to manipulate their footage, making it dissolve and dissipate particles. One other interesting thing we discovered, a product of the fact the camera only collects the 3D data from the angle it sees, this effectively means you get half a 3D image. When you rotate the image 90 degrees past the angle you've shot from you suddenly see the inverted version of the image. When looking at the band we found we really liked these inverted versions. They create a really interesting optical illusion as you move back and forth and it was this effect that we utilized to give us the circular tracking shot, which became the centre piece of the video. Watch Animation.

We wanted the rest of the world surrounding the performance to be in keeping with the glitchy lo-fi feel of the Kinect footage. Ryan Passmore at Munky created 3D water simulations which make up the opening shot of the video as well the bubble and the odd jellyfish/drip like creatures that appear in the first half of the video. To create the bottom of the ocean we once again returned to the Kinect, building crude coral like structures which became even more unusual and otherworldy when shot with the Kinect. All sorts of objects were used, for the sea floor we simply unrolled a few lengths of old bubble wrap and spread it over the floor, there's also plants and even a desk lamp somewhere in there.
For more behind-the-scenes photos from the project, see Tim & Joe's site.
Tim & Joe are represented by Colonel Blimp. For more of their work, visit Colonel Blimp's site.