A Great Idea for What to Do With the Pennies Left on Your Metrocard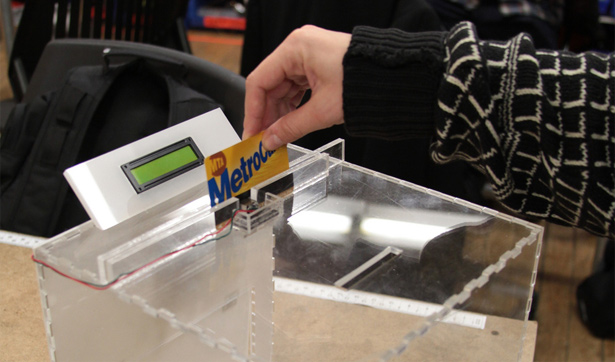 If you ride a subway or train system in which you swipe a flimsy card through a reader, you are familiar with the experience of being left with 20 cents on a card. Sure, you could feed that card back into a machine and wring every last nickel from the card, but we know a lot of people don't. Instead, those cents get tossed into trashcans or left in wallets, hiding behind business cards from people whose startups have long been purchased by mid-ranking enterprise software companies. (Wait, maybe I'm talking about myself here.)
In any case, there is money on stored value cards and it's sitting out there and three enterprising graduate students at NYU's Interactive Communications Program want to put it to good use. They've hacked together a prototype for a system they call MetroChange. The current incarnation is a simple kiosk that allows you to donate the leftover value on your card and then recycle it. Designer Brad Dechter called it "a charity donation platform for using New York City subway cards," which is apt.
Here's a demonstration of how the system might work:

If you're interested in how they hacked together MetroChange, check out their blog, which lays out the various steps in glorious detail.
Via Ari Greenberg, who spotted it at ITP's Winter Show.