Two Months In: A Nicer Apple Under Tim Cook?
The new CEO has ended Apple's era of zero charitable giving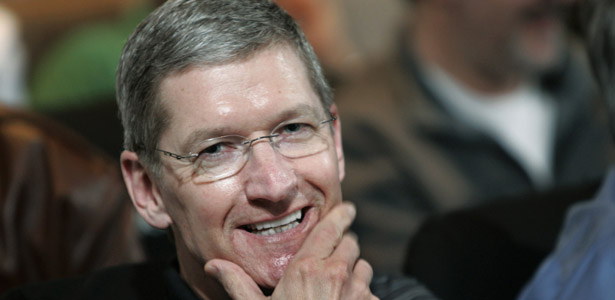 When Tim Cook took the reins at Apple in late August, tech-industry watchers expected that  under Cook things would look more or less the same as they did under Jobs. Cook was a known quantity, had long been a central and at times even top leader in the Apple chain of command. Any changes under cook would likely be subtle, about the feel of the place, not drastic changes in direction.
So far, as a new report from The Wall Street Journal's Jessica E. Vascellaro details, those early expectations have been right on the money. Cook's changes so far, though not major, are making the company a pinch, well, nicer.
In a shift that represents this new feel, Cook has announced that the company will match employee donations to non-profits up to $10,000 a year. Jobs was known for being aggressively anti-charity, shuttering Apple's philanthropic activities after taking over in 1997, and publicly donating none of his personal wealth (though it's possible he did so anonymously). According to Vascellaro, "Mr. Jobs said at a company off-site meeting last year that he was opposed to giving money away, according to a person who attended." Cook's charitable-donation-matching plan signals that the new CEO does not share that view.
Another nice Cook touch is that he has reportedly been communicating more frequently over company-wide emails and refers to Apple employees as "team." Jobs, on the other hand, was not known for being friendly, rather his bullying style has been well-chronicled by former employees and journalists.
Vascellaro's report also includes a few Cook changes in Apple's structure: He's reorganized Apple's education outfit into the marketing and sales divisions and he's promoted vice president Eddy Cue to senior vice president of cloud services, where he'll see over iAds.
Image: AP.