The Quest to Design a Better Apple
Among the set of agricultural products targeted for improvement, apples are the beauty queen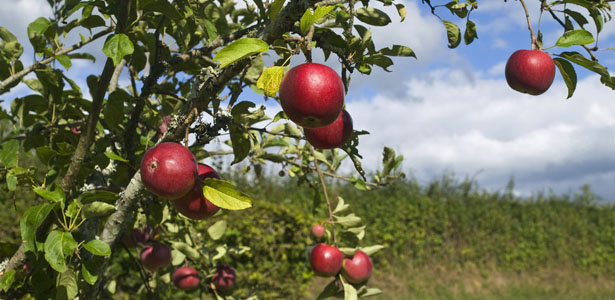 The grains and produce we eat are a work in progress: Through selective breeding, hybridization, and genetic modification, farmers and scientists are constantly rejiggering what kinds of rice we eat, or what kinds of apples are grown.
In the new issue of the New Yorker, John Seabrook profiles the efforts (paywall) to make a better variety of apples. Americans, provided with bland and mealy varieties, consume, on average, half as many apples as Europeans, he reports. He describes a visit to the orchard of David Bedford, a horticulturist and the inventor of a new, extra delicious apple called the SweeTango. Seabrook writes:
Bedford's apple laboratory, a thirty-acre parcel of rolling land about thirty miles west of Minneapolis, is planted with about twenty thousand apple trees. In May, during blossom time, Bedford and his student assistants make crosses between promising varieties: taking pollen from one variety and swabbing it onto the stamen of another, and then bagging those flowers to keep pollen from other trees out. Although the apple that grows on that branch will be true to the mother tree's DNA, the seeds will be heterozygous, combining equal and unique parts of both parents' genes, so that every seed is another thing apple trees and humans have in common. Bedford hopes to get the best characteristics of both parents into the offspring, while producing an apple with an identity all its own. "Some apples look great but don't pass those traits on," he told me, "while others are not so great looking but make good parents." Each one of the three to five thousand seeds that result from a season of crosses will be unlike all the others and will produce a different tree. Bedford plants the seeds in a greenhouse, and grafts the budding trees onto outdoor rootstock the following summer. In about five years, he will have four thousand or so brand-new apples to taste.

In the fall, during the apple harvest, Bedford tastes apples from blossom times past, up to five hundred apples a day, and the hope of finding that one apple in ten thousand that will be released as a commercial variety..
That holy grail variety -- taste, texture, color, high tree-yield -- could be worth a bundle: The patent for the Honeycrisp earned the University of Minnesota more than $10 million and royalties, its third-most-valuable patent ever, after an HIV drug and a vaccine for a virus that threatens pigs.
Image: Anton Prado PHOTO/Shutterstock.