From Light Bulb Finder to EarthFriend, the best of the entries submitted to a contest organized by the Environmental Protection Agency
The federal Environmental Protection Agency has announced winners of a contest to create the best "Apps for the Environment." After a solicitation earlier this year, the agency drew 38 entries and 2,000 votes on them from website users. The main prerequisite was that entrants base the program at least in part on publicly available EPA data.
One of the entries that I liked (though it was not among the winners), for example, was Find Green Garage, which enables users to see the locations of auto repair facilities that have achieved green certification from various programs. Type in a zip code and the user will be shown a Google Map with icons identifying the qualifying shops; click on one of the icons for "type of service provided, name, location, phone number, the certifying authority, and the amount of greenhouse gas savings achieved to date. Hyperlinks take you to the shop's website, the certifying authority website, and additional information about how green savings are calculated."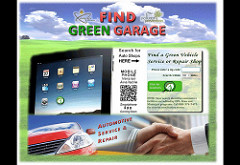 Another app, the Locus EPA Site Search Application, "lets you search for EPA-listed and -regulated sites (such as Superfund and Brownfields sites) in a given state or within a selected radius of a zip code. Users can also filter for sites within a specific EPA program. Results are shown on a Google map or in a chart. Clicking on a site on the map displays site specific information."