A History of the Sky captures 360 24-hour time-lapses of the sky over the course of a year. Ken Murphy, a self-described "programmer, artist, and tinkerer," custom-designed the technology to shoot 8,640 photographs a day from the roof of the Exploratorium, a science museum in San Francisco. The setup includes an old point-and-shoot digital camera, a computer running Ubuntu Linux, a 4GB memory card and a network connection to automatically transfer the photographs, which totaled over 3 million in the course of the year. He shares how he did it in an interview below. 
Best viewed full screen in HD.
The Atlantic: What inspired you to get into time-lapse photography?
Ken Murphy: I had the idea for A History of the Sky before I'd played around with time-lapse at all. The original concept was to create a visualization that used real patterns from nature in an abstract and hopefully interesting way. Time-lapse photography wasn't a part of the plan at first, but once I started experimenting with it, I knew I wanted to incorporate it into the piece. I find the technique compelling because it tunes us into events that unfold at a rate that we're otherwise unable to experience directly.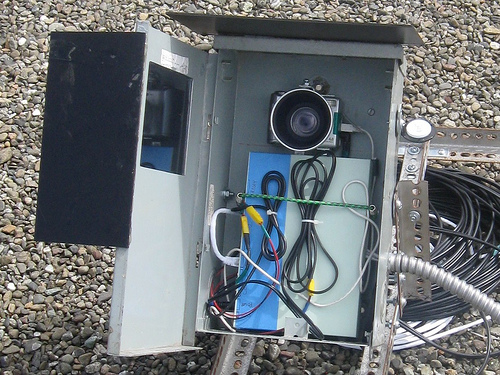 The camera setup, with a Canon A520 with wide-angle lens.