Online Neighborhood-Rating Tool Walk Score Keeps Getting Better
With new features that allow users to calculate commute cost and time and search for housing, Walk Score has a lot of analytic mojo behind it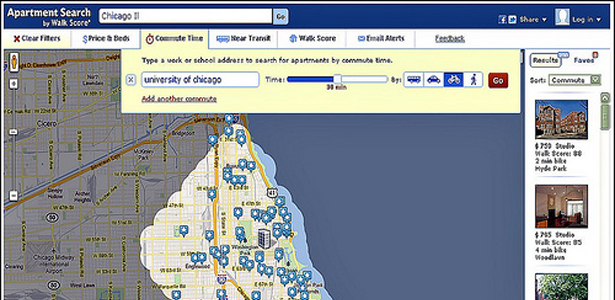 The popular online neighborhood-rating tool Walk Score is pure genius. It takes a simple (if also sometimes hard to measure accurately) concept -- proximity to conveniences within walking distance -- and turns it into a measure that can be rated on a 100-point scale. My house gets a "very walkable" 75; my downtown office is a "walker's paradise" at 97; my suburban in-laws' house rates a "somewhat walkable" 54. And I learned all three scores in less than a minute: type in an address and you're there.
What Walk Score is telling me is that I can reach more useful places -- shops, offices, transit stops, restaurants, and so forth -- on foot from my office than from my house, even though I can reach many from my house. And that both house and office are more conveniently located than my in-laws' place, though there are at least some amenities within a short distance from their house. Though one can quibble with precise numbers and definitions, those findings match up well with my real-world observations and experience.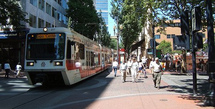 Walk Score works so well because of its simplicity to the user. And, since the site first went online a few years ago, it has continued to get incrementally better. For example, I last wrote about the site two years ago when it began to incorporate transit; now we take that for granted, with Walk Score helpfully reporting which transit stops are what distance away from the starting point. The site now reveals that my house has a "Transit Score" of 66, with 16 nearby routes and six stops within a half-mile (including Metro rail, 0.42 miles away).
In a particularly useful development, the site is now calculating (in beta) not just raw distance from conveniences, but "Street Smart" distances following actual walking routes. This is much more accurate in measuring convenience (or lack of it) as it is experienced, and as a result Street Smart really exposes the challenges that poor street connectivity poses to pedestrians. If your neighborhood has a lot of cul-de-sacs, for example, what at first appeared on a map to be a short, walkable distance could become a much longer one in reality because the route you have to take is so indirect. The score for my in-laws' house goes down from 54 to a "car-dependent" 18 under the Street Smart measurement. Ouch. Fortunately, the traditional street grid in my older neighborhood keeps my own home's score up at 72.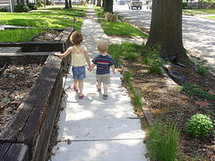 Adding useful information for genuine land-use nerds like myself, Street Smart allows me to see that the block lengths in my neighborhood are relatively small at an average of 427 feet; I have a good "intersection density" of 152 per square mile. Why is this important? Because street connectivity, measured by intersections per square mile, is the number one indicator of how much walking takes place in a neighborhood. It's also the second strongest indicator of how much driving is done by residents in the neighborhood: the higher the number of intersections, the lower the driving rate and the lower the carbon emissions.
The Street Smart version of Walk Score also tells me how convenient my house is to particular categories of amenities. It says the house is particularly well located, for example, to walk to parks, banks, and groceries. (However, this aspect needs work before it goes from beta to full launch. Walk Score missed five schools -- three of them public -- within a mile of my house; three of which are within a half mile. What's up with that? Street Smart also stalled my computer. I'm just saying.)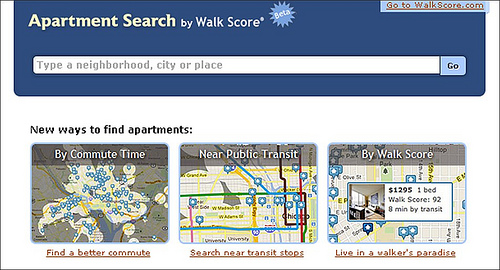 Beyond Street Smart, recent additions to the Walk Score family of tools and adaptations include calculations of commute time and cost by different modes and a feature specifically to facilitate searches for hotels in walkable locations. A few weeks ago the site also added a sophisticated apartment search feature, allowing users seeking apartments in walkable locations to find and compare them quickly. This feature interacts with the commute-time data so that you can search, for example, apartments within 20 minutes of your workplace by bike, or within 30 minutes by transit, or whatever.
Just this week, the busy Walk Score team added to apartment search the ability for multiple-worker households seeking a "car-lite lifestyle" to enter multiple workplaces and find search results that work for everyone. Expect landlords with good ratings and proximity to job centers to use Walk Score more and more frequently in their marketing, just as the for-sale market does.
This little tool that is so simple on the surface, that we now take for granted, has a lot of analytic mojo behind it. Walk Score isn't perfect, but I like it that the developers of the site have not let the perfect be the enemy of the good. They are candid about the limits of their algorithms (so far) to accurately capture some factors important to walkers, but their philosophy is to keep moving forward and improving. In my opinion, they are doing just that.
This short video does a great job of showing how the apartment search feature can be used:
This post also appears on NRDC Switchboard, an Atlantic partner site.