This article is from the archive of our partner
.
Just in time for a friendly Christmas competition with Amazon's Kindle Fire, Barnes & Noble is announcing the release of its competitor, a Nook Tablet. The Fire got insane reviews. Some bloggers were so impressed they even ventured to call the Fire "an iPad killer."  Now that Barnes & Noble's throwing its tablet into the ring, will it be the Kindle Fire Killer? Here's how a duel might shake out.
Round 1: Price
A big gigantic reason the Kindle Fire stands a chance against the iPad is that it's priced $200 lower than the iPad at $199. Barnes & Noble didn't quite get to that attractive lower-than-$200 price point. The Nook will cost $249. But there's a mental difference for consumers. Less than $200 bucks is easier to justify than $250 -- even if its only $50 more. Winner: Kindle Fire
Round 2: Speed and Memory
The Nook tablet will offer more memory with its 16GB of built in storage, 1GB of RAM and a speedier 1.2 GHz processor. The Kindle Fire only offers 512MB of RAM, 8GB of storage and a 1GHz dual core processor. But those specs are actually mostly meaningless for kindle Fire users. To speed things up and up memory storage, Amazon's offering relies on the elusive cloud. That just means Amazon's runs a lot of the Fire's operations via Silk, the browser it offers, meaning instead of slowing things down by doing stuff on the actual hardware, the Kindle Fire outsources all that hard work to servers. Winner: Tie
Round 3: Fun Factor
Amazon's betting on all the great entertainment its Kindle Fire will offer. It's even losing money on the actual device because its thinking it will make more selling the content that will play on its cheap fun-machine. Since the Kindle Fire announcement, Amazon's been beefing up its offerings, opening its Lending Library service just yesterday and adding streaming contracts to its 13,000 title library. Barnes & Noble has said the Nook Tablet will basically be the Nook Color with "HD Entertainment," we'll have to wait until the official announcement to see how hooked up it will be. Winner: Kindle Fire, for now.
Round 4: Look
The iPad's the prettiest tablet around, and the Kindle Fire didn't really try to compete. It basically looks like the very unpopluar BlackBerry playbook, which TechCrunch's Matt Burns found pretty unimpressive, calling it characterless, dull and just passable. If the Nook Tablet looks like the Nook Color, it should please. At least for an e-reader, the Nook Color impressed. Endgadget's Joshua Topolsky called it "elegant," but that was as an e-reader, perhaps the standards are different for tablets? Below you can judge the iPad, Kindle Fire and Nook Color look, respectively.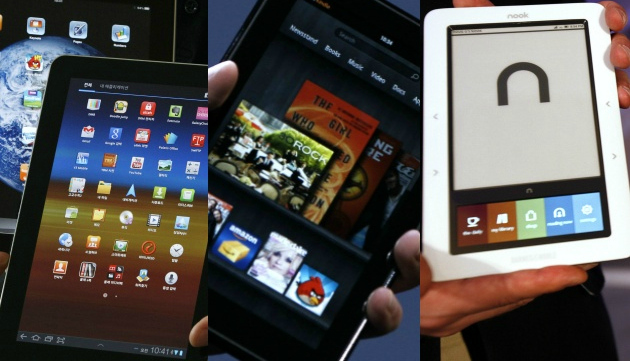 Winner: Nook Tablet, barely.
The Kindle Fire pulls put just ahead of the Nook, taking the prize. But perhaps with the official announcement next Monday, Barnes & Noble will pull out a secret weapon, providing a reason to spend the extra $50.
This article is from the archive of our partner The Wire.
We want to hear what you think about this article. Submit a letter to the editor or write to letters@theatlantic.com.