How Photography Entered the Courtroom
Early conflicts about the meaning of photography have muddled photographs' status in courtrooms ever since
Early conflicts about the meaning of photography have muddled photographs' status in courtrooms ever since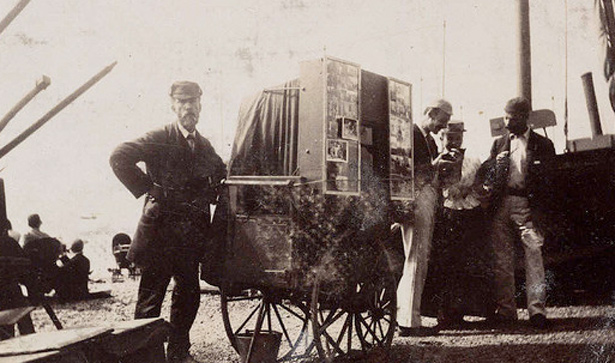 Legal issues around pictures of people are complicated. Tracing them back to their sources can help illuminate current debates on copyright and privacy. Lynn Berger, a PhD student in communications at Columbia University, presented a paper at this weekend's Society for the History of Technology conference in Cleveland that traced our contemporary concerns back to some key legal battles over the meaning of early photography.
Berger's paper, "What We Talk About When We Talk About Photography: Privacy, Copyright and the Camera in the US, 1883-1905," tracks the movement of photography into the courtroom and the beginning of two, somewhat contradictory legal models: copyright and privacy.
Early observers of photography had concluded that it was not an art so much as a way of capturing nature as it was. In the early days of photography, in the mid 1800s, no one was sure if rights to a photograph, as a part of nature, could even be owned. Accordingly, when the Burrow-Giles Lithograph Company made unauthorized copies of Napoleon Sarony's iconic photograph of a pensive Oscar Wilde, the company defended itself by saying that Wilde's likeness was made by nature, and Sarony's photograph was no more than a copy of it. In 1884 the Supreme Court decided that by posing the writer in a certain position Sarony had changed nature enough to make the photograph a piece of art, and thus that copyright protection should be extended to photographs.
At the same time, photography was entering the courtroom as an object of privacy concerns. Abigail Roberson's photograph had been taken by a friend, and without her consent a drawing based on that photograph was printed on 25,000 posters advertising flour. In Roberson v. Rochester Folding Box Co (1902), the New York Court of Appeals found that Abigail did not have a right to control what was done with her likeness. But by 1905 opinion had begun to swing in the other direction and a precedent was set that a photograph belongs to its subject.
For this early period of photography, Berger argued that there were two opposing concepts of photographs that coexisted uncomfortably. For copyright purposes, the photographer "made a picture" -- they were the author of the photograph. For privacy purposes, the photographer "took a picture" -- the picture was the property of its subject, the photographer a "mere mechanic." Though we value the skill of photographers more than the courts did in the early 1900s, navigating issues of ownership and privacy are still challenging.
Image: National Media Museum.