Google Doesn't Seem to Want to Fix Reader
Even before Google unveiled its changes to Reader, it did not care what users thought. In the first blog post announcing the changes, Google said, "We recognize, however, that some of you may feel like the product is no longer for you." As a nice gesture, Google gave people tools for transferring their feeds and social data to other RSS aggregators, but the point was clear: You don't have to like what we're about to do.
Since the changes went into effect, Google's position hasn't softened. A Google spokesperson told the Atlantic in response to a question about upset Reader-readers, that "We understand that some may not like this change. Retiring Reader's sharing features wasn't a decision that we made lightly, but in the end, it helps us focus on fewer areas and build an even better experience across all of Google."
In the forums on the Google Reader help page, Google has not responded to any of the complaints. Yesterday, a former Google Reader designer posted on his blog that he was willing to take time off from his other work to fix the new Reader. I doubt Google will take him up on this.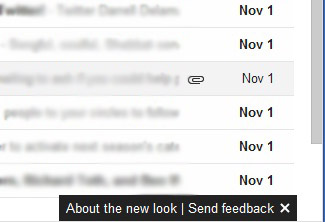 Now, contrast this lack of interest in making the Google redesign work with its roll-out of the Gmail upgrade (image on right).
What's this? Could that be a feedback button, embedded in a prominent place on the Gmail page?
Why yes it is.
When Google cares about a product, it listens. But for all the Reader users hoping Google will listen to their cries, it's not that Google doesn't understand why you're unhappy. It's that Google doesn't seem to care.
Update: For a close look at the problems with Google Reader's redesign, go here.