Family Planning on the Range: The Battle Over Bison Contraceptives
Could contraceptives offer protection for the nation's last continuously wild herd of American bison?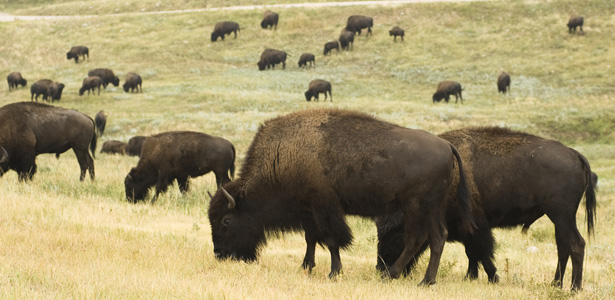 At feeding time, residents of the Brogan Bison Facility cluster around a hay bale, blinking at flecks of alfalfa dust that swirl in the air and settle in their shaggy coats. The herd, chewing and lowing, mills in a holding pasture near Corwin Springs, Montana, surrounded by sweeping mountain views and a seven-strand wire fence. Blue-painted squeeze chutes are settled in the dirt nearby, bordered by a swath of prairie grass that stretches for a few miles until it meets the northern border of Yellowstone National Park. This, under a graying sky beginning to spit the first snowflakes of another long winter, is the unlikely center of a contentious debate over birth control.
The bison, gathered after drifting out of Yellowstone earlier this year, are potential subjects of a USDA study of GonaCon, a contraceptive vaccine for wildlife. Originally developed by the USDA as a non-lethal form of pest control, GonaCon works by lowering the concentration of sex hormones in the bloodstream to weaken fertility and the urge to mate. The contraceptive was recently approved in Maryland and New Jersey for curbing the population of wild deer. Now researchers are hoping to use GonaCon to stop the spread of brucellosis, an infectious bacterial disease that causes pregnant ungulates to abort their calves.
The Greater Yellowstone Area is the last known reservoir of Brucella abortus bacteria, believed to have been introduced to the park's bison by domestic cattle at the beginning of the 20th century. Roughly half the bison population in Yellowstone tests positive for exposure to the disease, which is primarily transmitted by contaminated birthing materials deposited on grazing grounds. Brucellosis also poses a threat to neighboring cattle herds when infected animals wander over the park's invisible boundaries. Researchers from the USDA's Animal and Plant Health Inspection Service (APHIS) are interested in whether temporary sterilization with GonaCon can prevent the shedding of bacteria-riddled afterbirth and help block disease transmission.
The USDA has spent close to two billion dollars over nearly eight decades trying to stamp out the disease, which carries hulking environmental and financial consequences. Bison who leave the park to seek food at lower elevations are routinely rounded up and quarantined, and those found to have the disease are slaughtered. When brucellosis crops up on cattle ranches, herds must be quarantined and infected members butchered. Additionally, the bacteria can pass to humans through unpasteurized milk. Jack Rhyan, a veterinarian medical officer and wildlife pathologist with APHIS, and the study's principal investigator, said that the focus on brucellosis is driven in part by its implications for public safety. "Animal health is directly related to human health," he said.
But while the GonaCon study is still in the nascent stages, some conservationists are already voicing concerns. Stephany Seay, media coordinator of Buffalo Field Campaign, a group that advocates for protection of the Yellowstone herd, views the USDA study as an experiment in population control. "Brucellosis is being used as a tool to manipulate the movement of wild bison," she told me. According to Seay, GonaCon is a means of catering to ranchers who don't want to compete with bison for grassland. "This is a centuries-old range war," she continued.
Indeed, the interests of land-users have historically clashed with bison and their habitat. Once scattered over the Great Plains, the American bison population was demolished in the late 1800s by settlers hungry for meat, hides, and room for westward expansion. Numbers dwindled from an estimated 30 million to fewer than one thousand. By the turn of the century, Yellowstone held the nation's only remaining wild population of plains bison. Biologists have determined in recent years that the herd is one of the last to retain genetic purity, with no traces of interbreeding with cattle.
From Seay's perspective, the significance of the Yellowstone herd is reason to encourage tolerance over further tampering. She and the Buffalo Field Campaign have fought to expand range rights for bison. "The dispersal of wildlife lessens the prevalence of disease," she said. "By allowing bison to roam, you're thereby also reducing risks." Ranchers anxious about contagion, she suggested, could immunize their animals against brucellosis rather than meddle with neighboring wildlife.
But while bison remain in the essentially artificial environment of Yellowstone National Park, bounded by a patchwork of land and legal rights, some degree of management may be necessary--even beneficial--for the animals inside. Marty Zaluski, Montana's state veterinarian, pointed out that the goals of the USDA and bison advocates are, to some degree, in alignment. "It's a non-lethal method to reduce the infection rate while slowing the population growth, and therefore reducing the number of animals that go to slaughter," he said. "I really don't comprehend why this is such a lightning rod for conservationists' concerns when you look at the alternatives."
Zaluski, who has also been a vocal advocate of immunization, sees GonaCon as a valuable addition to the disease-fighting quiver. He maintained that birth control could do more than buffer direct impacts of the disease in Yellowstone's herd. "Brucellosis is limiting the ability to take the bison from this area and restore them in other parts of the country," he said. GonaCon, with its potential to wipe out infection, could make the public more open to the concept of a free-roaming herd. "Ultimately, the entire nation loses by not being able to benefit from and enjoy Yellowstone bison."
USDA APHIS is in the process of conducting an environmental assessment to determine whether the proposed study should move ahead. The assessment is scheduled to wrap up by early January, and the results will be made available for public comment. If approved, work could begin this spring--around the time a new generation of bison calves tests their wobbly legs.
Image: Jim Parkin/Shutterstock.