Ballet Shoes and Ballerinas as Technology: A History En Pointe
Pointe shoes made the ballerinas of the New York City Ballet into technological artifacts, modern and indistinguishable "like IBM machines"
Pointe shoes made the ballerinas of the New York City Ballet into technological artifacts, modern and indistinguishable "like IBM machines"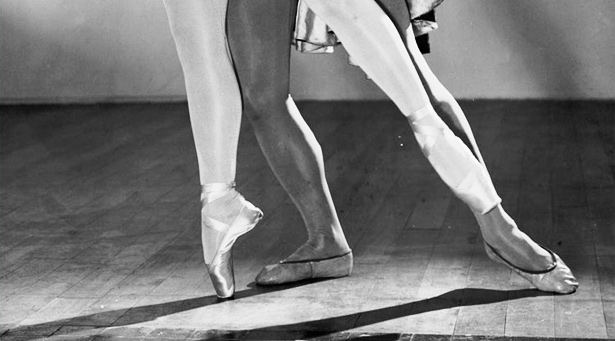 Ballet pointe shoes are not typically thought of as technological artifacts, but they certainly are. But, as Whitney Laemmli of the University of Pennsylvania argued at the Society for the History of Technology conference in Cleveland over the weekend, ballet's technology doesn't end there: The bodies of dancers reshaped by pointe shoes are also technological. Laemmli's paper, "A Case in Pointe: Making Streamlined Bodies and Interchangeable Ballerinas at the New York City Ballet," looks at the way George Balanchine used pointe shoes to remake the bodies of his dancers into interchangeable machines.
Laemmli opens with an anecdote from the romantic heyday of ballet. In the 1840s, when Marie Taglioni went on pointe for a few seconds in La Sylphide, her momentary weightlessness became an icon of the transcendent power of ballet. A pair of her shoes sold for 200 rubles and was cooked and eaten by her admirers.
But pointe shoes became rationalized in the 20th century, made by specialized cobblers to be stiffer and heavier. George Balanchine, the charismatic director who ran the New York City Ballet and its School of American Ballet, rethought pointe shoes. He worked with Salvatore Capezio to develop and patent pointe shoes to produced the exact lines of the foot and leg he thought beautiful, and to be quieter and less clunky than earlier pointe shoes.  He required all dancers (not just the principals) to go on pointe -- and not for a few short moments, but for hours at a time.
Laemmli argues that the new shoes forced dancers' bodies to move in new ways. Dancers on this pointe regimen developed characteristically long, lean leg muscles. Balanchine also encouraged dancers to let the shoes remake their bodies, including developing bunions that gave the foot just the right line. And as their bodies were remade, dancers became "like IBM machines," modern and indistinguishable. This had consequences for labor, too. For one, stars became a less central feature of dance companies as dancers became more interchangeable, and second, dancers came to spend hours working on their shoes -- altering, gluing, and caring for them. In fact, in 1980 dancers threatened to strike -- not over hours or pay, but for better pointe shoes, and better management of them.
The history of technology doesn't talk much about art. That's why Laemmli's paper is important, paying attention not just to how dancers used their tools, but also how their tools changed them. For her contribution, she was honored with the Robinson Prize, awarded to the best first-time presenter.
Image: State Library of New South Wales.