If you're accustomed to the startup cultures of New York or California, the offices of Chattanooga's Lamp Post Group feel like an alternate reality. Everything looks about the same--glass-walled offices installed in a restored old building with sky-high ceilings and glossy wood floors;  desks arranged in open space;  white boards hanging here and there. Most of the occupants are guys in their 20s. But you'd never find this mix of people in the coastal cities.
The 24-year-old in one of the middle offices is Weston Wamp, son of longtime Republican congressman Zach Wamp. The junior Wamp recently announced his intentions to follow in his father's footsteps by running in next year's elections. If he wins, he'll be the youngest person ever to be elected to congress. "It's a pretty red state," he said when we asked him if he had a good shot, "So if I win the primary..."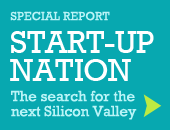 Around the corner, the Retickr team sits around a cluster of computers like friends in a dorm room. And they do, in fact, all live together in a house in town. The company's mustachioed CEO looks the part of an app-era founder, and it's clear he takes his leadership seriously. A piece of posterboard propped against the wall displays a list of recommended reading for the employees--mostly business and tech books. A hand-drawn grid lists the titles on one side and the team members' names on the other. Foil star stickers mark everyone's progress. George W. Bush's autobiography sits on the windowsill beside the poster board. It's not at all clear whether that was required reading.