The Unusual Startup Incubator That Could Only Exist in Chattanooga
If you're accustomed to the startup cultures of New York or California, the offices of Chattanooga's Lamp Post Group feel like an alternate reality. Everything looks about the same--glass-walled offices installed in a restored old building with sky-high ceilings and glossy wood floors;  desks arranged in open space;  white boards hanging here and there. Most of the occupants are guys in their 20s. But you'd never find this mix of people in the coastal cities.
The 24-year-old in one of the middle offices is Weston Wamp, son of longtime Republican congressman Zach Wamp. The junior Wamp recently announced his intentions to follow in his father's footsteps by running in next year's elections. If he wins, he'll be the youngest person ever to be elected to congress. "It's a pretty red state," he said when we asked him if he had a good shot, "So if I win the primary..."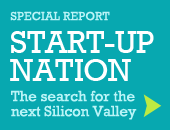 Around the corner, the
Retickr
team sits around a cluster of computers like friends in a dorm room. And they do, in fact, all live together in a house in town. The company's mustachioed CEO looks the part of an app-era founder, and it's clear he takes his leadership seriously. A piece of posterboard propped against the wall displays a list of recommended reading for the employees--mostly business and tech books. A hand-drawn grid lists the titles on one side and the team members' names on the other. Foil star stickers mark everyone's progress. George W. Bush's autobiography sits on the windowsill beside the poster board. It's not at all clear whether that was required reading.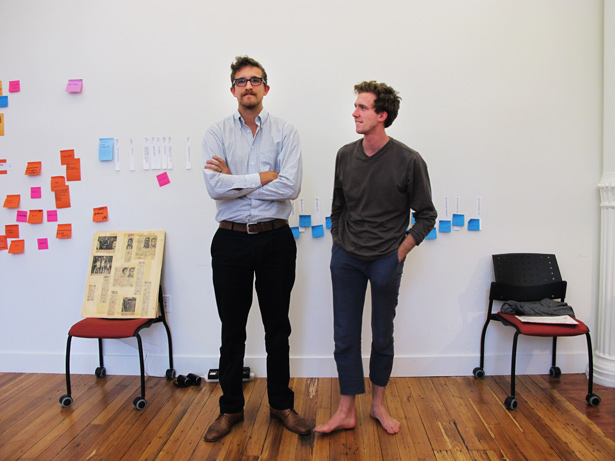 Meanwhile, in the opposite corner, the hipster faction holds down a few desks under the moniker Fancy Rhino. Isaiah Smallman and Drew Belz founded their video production studio in 2010 after winning a pitch competition at their alma mater, Covenant College, the Presbyterian school on nearby Lookout Mountain. Isaiah wears heavy-rimmed glasses and a shaggy Brooklyn fade, Drew wears slacks that look rescued from an ill-advised dryer cycle. The cuffs end a notable distance from his bare feet. The duo -- they're cousins -- are producing short videos that are at least as slick, poignant, and artistically sharp as anything coming out of the big Manhattan agencies.
Coming full-circle around the office we find Brandon Rickman, who relocated from Georgia to set up headquarters for his company, ProVision Sports, a licensed product and apparel business that holds exclusive rights to market NCAA tennis and golf gear, and NASCAR BBQ grill lighters. In fact, if you happen to have a NASCAR-branded BBQ grill lighter, it's guaranteed it came from ProVision.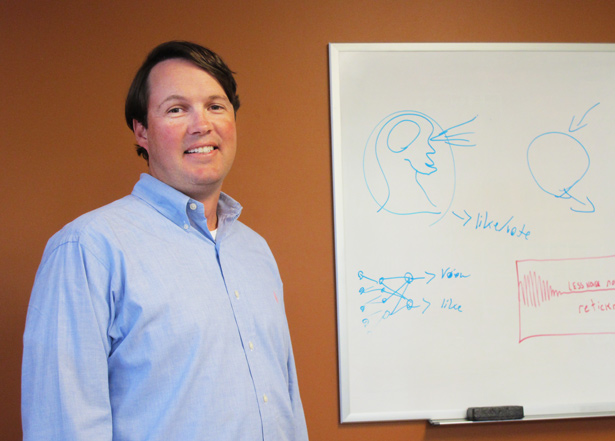 All of these guys are here because Ted Alling and Jack Studer believe in their potential. Though hardly older than their upstart office mates, both have already attained high levels of corporate success. After graduating from Princeton, Studer founded a web company, then sold it to an Indian buyer before coming home to his native Chattanooga. Alling still runs his third-party logistics operation, Access America Transport, which is now a $200 million business. In his Twitter bio, CEO is listed fourth after husband, father and Christian.
The young execs founded Lamp Post in order to catalyze local entrepreneurship and economic growth, and to attract new businesses to their town. Access America Transport's back office infrastructure is shared with all of Lamp Post's startups, enabling the entrepreneurs to concentrate on their core offerings.
Without wanting to deploy tired innovation language, if the term "alchemy" still deserves to be used anywhere in business, it seems to belong here. The kind of diversity that exists in a place like Chattanooga would almost never be found in Palo Alto or Brooklyn--religion tends to be central, politics often diverge, and youth culture isn't mutually exclusive from old tradition. Studer and Alling savor those Southern ingredients, and so far they've nourished an environment where each company's creativity swells in the presence of contrast.