The Recession's Effects on Migration Patterns Within the U.S.
Many students are now staying at home longer, or returning after graduation. But where are the ones who head out on their own going?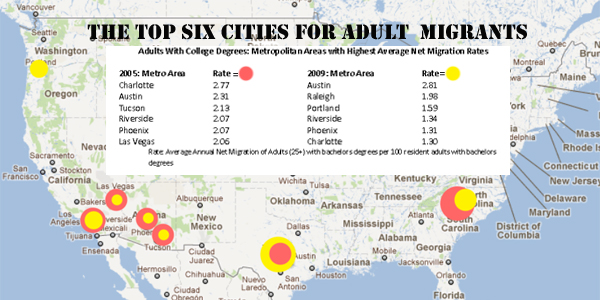 Data from
Brookings
, Graphic by Lois Parshley
Not surprisingly, the economic crisis has halted American mobility. Young adults and college graduates are moving back with their parents to save money after school. But also unsurprisingly, young adults still remain the demographic most likely to migrate. Where are all these college grads heading? Brookings demographer William Frey released a study in January noting how the recession has affected the migration trends of young college graduates.
Using data from the 2005-2009 census, Frey notes that before the recession Sunbelt metro areas such as Phoenix and Las Vegas were popular targets; housing was cheap, credit easy, and local economies had ample employment opportunities in real estate and service industries. After the recession, with tighter budgets and fewer job options, young adults are trending towards larger cities and tech centers -- places with larger labor markets and more affordable housing.
But the most unusual of Frey's findings is the news that a significant number of older Rustbelt metros -- like Buffalo and Charlotte, areas that have had rapidly declining populations for the last twenty years -- are now becoming popular migration centers for young graduates.
Frey says:

Certainly the housing crisis and the ongoing economic transformation has played a role, but it also suggests that the longer-run efforts that these communities have been making to transform their economies, as well their more recent strategies to upgrade their quality-of-place and in general improve their ability to compete for young talent may well be paying off. And that is very good news.
Read more about these migration trends here.