I am in Tyler. While waiting I passed five months, wrote eight blog posts, and hacked four apps. Now I'm in a new place with new responsibilities and expectations, but most importantly, I'm back with the kid in this picture: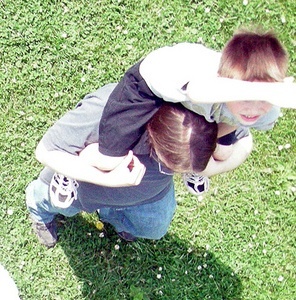 Sometime soon I will reflect on my impressions of Tyler, but first I want to celebrate the change by writing about something that was central to my original Hack Tyler post:
Public transportation. I'll have access to a car, but I'm going to do my best to live without being a consumer of gasoline, just as I did in Chicago.
Several people insisted I couldn't live without a car in Tyler--and they were absolutely right. When I landed at Tyler Pounds Regional Airport I hadn't driven a car in four months. Since I landed, I've driven nearly every day. (Mostly ferrying my son to school and various activities.)
However, I've also done something else since I arrived here: I've walked.
I very carefully selected the house I'm renting--an eccentric, hundred-year-old single-story in the Charnwood neighborhood--so that I can get to as many things as possible without driving. It's within a mile of: