The Geography of iPhone 5 Hype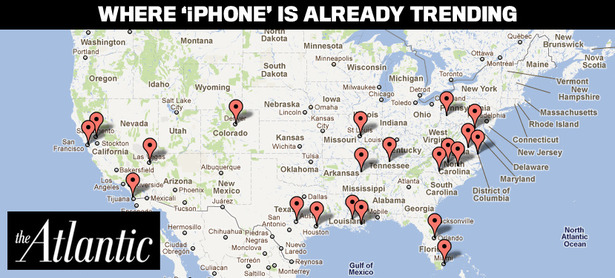 Today's Apple press conference is receiving a lot of media coverage already with the normal slate of exciting and boring rumors about the hardware and software. I decided to take a look at where those stories are finding unusual traction
audience*
. Looking at Twitter's trending topics for each city listed, I recorded each city where 'iPhone' (or 'iPhone 5' or '#iPhone5') was trending. If you look closely, there is an interesting twist to the geography of hype here.
Of course, iPhone is trending is San Francisco, but the real surprise is the southeast. Among the northeastern cities (Boston, NYC, Philadelphia, Providence, New Haven, etc) only Pittsburgh Twitter users have made 'iPhone trend.' In the southeast, you find Houston, Baton Rouge, New Orleans, Orlando, Greensboro, Richmond, Norfolk, Nashville, and Raleigh Twitter users all talking about the new Apple gear.
* As
@mysterioso
pointed out on Twitter, trending topics measure change in popularity, not absolute popularity, so what we see here is where people are relatively more excited about the iPhone than they are normally. I.e. A lot of background chatter about iPhones may make it difficult for the iPhone 5 stuff to rise above the trending topic threshhold.