The 99 Percent Tumblr: Self-Service History
An online home for the stories of Americans who are struggling to cope with sickness, debt, and unemployment during these hard times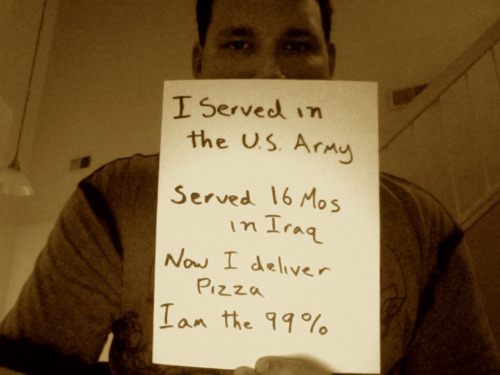 In the middle of August, in advance of the protests that began on Wall Street and have since spread across the country,
a Tumblr by the name of We Are the 99 Percent opened up shop
. Its first message asked readers to write their circumstances on a sign, take a self-portrait while holding the sign, and send it in. "We're all fighting," the organizers wrote. "It's time we recognize our common struggles, our common cause. Be part of the 99 percent and let the 1 percent know you're out there."
At first the stories trickled in, but over the past few days the site has exploded. Not every story will resonate, not every person will elicit sympathy, but the sum-total paints a very human and at times very sad portrait of the national trends and systemic problems (student debt and health care, in particular) that we all know.
This Tumblr is part of a growing online genre that includes
PostSecret
and the anonymous posts of the
It Gets Better Project
: the collaborative confessional. Perhaps the best analog equivalent is bathroom-door graffiti, a place where you could write, anonymously or not, whom you liked, whom you couldn't stand, or what you feared. You could respond to the graffiti of others, and, over time, see responses to your own. Online or on a bathroom wall, it's a powerful medium, allowing you to bear something private and maybe find someone else carrying around the same weight.
Where It Gets Better and the 99 Percent Tumblr are different from PostSecret and the bathroom stall is that they are speaking to a national issue: being gay in America (as in the case of It Gets Better) and struggling financially (the 99 percent). In this way, these two projects are reminiscent of Studs Terkel's 20th-century oral histories, which he collected from hundreds if not thousands of Americans about their experiences with work, race, and war.


What is different now from mid-century is that there is no Terkel. This is self-service history, with no curator and no narrator. Some of the stories call out for follow-up questions, but there is no one to ask them. The results are raw and rough, but demonstrate that, with or without a Terkel, the power of personal narrative, whether on the radio, in a book, on YouTube, or on a Tumblr, can cut through the noise and cynicism of punditry and give shape and texture to our national story.

Image: wearethe99percent.tumblr.com.