Profile: The Scrum to Become the AirBnB for Event Venues
ATLANTA -- Event planning is one of those businesses that has resisted the pull of technology. Even browsing rentable locations is really difficult, as any newly engaged couple finds out. That's surprising to me, given the path that travel planning has taken.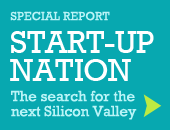 But now, a host of companies are trying to bring some innovation to the space. One of those companies is
LeadingSpaces
, which is launching in New York, but is based in Atlanta. The site is simple: it's a matchmaker for venues and people looking for venues. It's a little bit like AirBnB for event spaces.
LeadingSpaces has some serious competition though in two sites with silly names: Venuetastic and Eventective. Keep your eye on all three. Someone has got to succeed in this space.