Profile: Between Car and Bike, a New Electric Trike
While most of the entrepreneurs launching companies at Durham's Startup Stampede offices are building software, Rob Cotter wants to change the way transportation is done. He's working on a series of solar electric tricycles that, in his words, "fill the space between a bike and a car." Organic Transit's products are street legal and get the equivalent of 1800 miles per gallon. The base price of one of the vehicles is $3,400.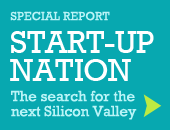 The vehicles aren't in production yet, but Cotter said that a lot of early interest has come from businesses that want to use the trikes as delivery vehicles. He's ready to go as soon as the right investment partner turns up.
Cotter has been at alternative vehicles for a long time. 25 years ago, Cotter built a human-powered vehicle that was clocked at 62 miles per hour. (He even became vice president of the Human Powered Vehicles Association.) Now he thinks the time is finally right for his ideas to go mainstream.