Picture of the Day: Toxic Algae Blooms in Lake Erie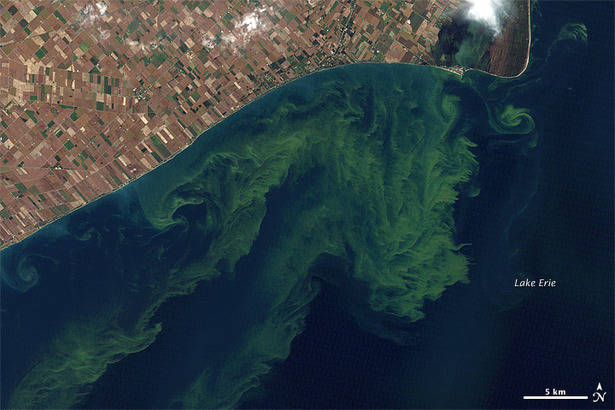 The Landsat-5 satellite captured this image of toxic algae growing off the coast of Ontario in early October. This year's algae bloom has been the worst in decades, likely the result of a rainy spring and two species of invasive mussels. The algae, Microcystis aeruginosa, can cause skin irritation to humans and can be fatal to dogs. If ingested, it can cause a flu-like sickness. The National Oceanic and Atmospheric Administration says that over the summer, the concentrations of the algae were 50 times greater than what the World Health Organization advises for safe recreation. Though the algae is not toxic to fish, dead algae uses oxygen in the water to decay, and as a result, areas with a lot of dead algae can become "dead zones" in which there is not enough oxygen for fish to survive.
Image: Earth Observatory/NASA.