The Personal Tributes to Steve Jobs Around the World
From flowers at Apple stores to postings on blogs, people got creative in remembering creativity's champion
This article is from the archive of our partner
.
As soon as Apple announced the news that Steve Jobs had died, fans rushed online, to Apple stores, to the company's Cupertino headquarters and even to the end of Jobs's driveway to commemorate to the visionary. Many of the gestures were less like signs of mourning than creative outpourings of emotion for the impact that Jobs made on their lives and on the world. Jobs once said, "I want to put a ding in the universe." And on the day after his death with fans paying tribute around the globe that he did just that. We've collected the more traditional tributes--obituaries, blog posts and so forth--in a separate post.
Apple employees remember their old boss.
Former interface human interface designer Mike Matas posted this a few more photos of Jobs in his office testing out the various filters for Photobooth in 2005. "Rest in peace," Matas wrote. So far over 5,000 people have liked the photo album.
A teenager in Hong Kong redesigns Apple's logo.
On his Tumblr, Jonathan Mak Long posted a rethinking of the Apple silhouette with a tribute to Steve. He admitted, "Posting designs like this one makes me paranoid, because I can't shake the feeling that it's not original. I enjoyed the process regardless, but please let me know if somebody else beat me to the idea!" Commenter so far give him all the credit.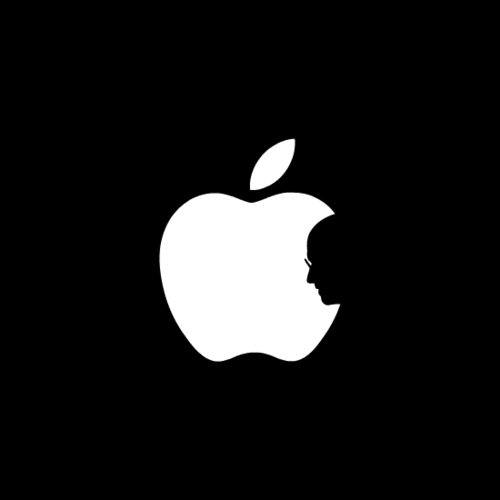 The Steve Jobs Eternal Flame
The web comic xkcd posted this animated gif.
My first Apple product
Storify executive Joe Webster--and presumably many others--posted a photo of himself posing with his first Apple product on Thursday night. Of course, he used an iPhone to upload the image of the old Macintosh.
Or all the Apple products ever made…
Flickr user jmsmytaste owns quite a few of Jobs's inventions.
Apple stores around the world host an outpouring of notes, flowers and fans
From Hong Kong to San Francisco to New York City, people gathered at Apple stores.
All over the world people left actual Apples outside of the stores with various messages carved out of them. This one is in Pasadena, California.
In Hong Kong (above) and elsewhere, many posted notes on the windows of Apple store, like an homage to the Stickies application for Macs.
The candle burning on an iPhone as well as iPads propped up and displaying Jobs's image were another meme.
Foursquare's Jobs badge resurfaces
Though it came out in January, the Jobs badge on Foursquare has been making the rounds. You earn it by checking into three Apple stores.
A bagpipe salute at Apple's headquarters
Apple fan Robert Charet showed up in a kilt and played "Amazing Grace" on the bag pipe. VentureBeat has more from Cupertino--a second bagpipe video and an interview with veteran tech blogger Robert Scoble.
A more traditional tribute at Steve Jobs's home
Friends and neighbors left flowers at the end of Jobs's driveway in Palo Alto, California.
This article is from the archive of our partner The Wire.