Meet Saleh, Egypt's Master Car Mechanic
An adventure in Herefyeen, a car-repair district on the outskirts of Cairo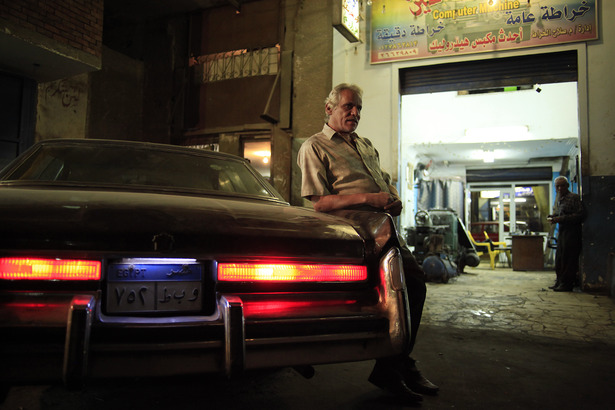 A small, red hatchback pulled up to our hotel one morning, and out stepped Omar. We had met this young, charming University of Cairo business student a few weeks earlier at Maker Faire Africa. He speaks sharp English even though his first language is Arabic, and had we asked him to be our translator. He had graciously accepted, and was kind enough to show up that morning in his mother's car to drive us to our next shoot at a cellphone repair market in Heliopolis.
One problem: Omar had just gotten in a fender bender on Cairo's chaotic highway, and he was petrified his mother would murder him. We had to find a fixer to replace the bumper, fast. This errand turned into the day's adventure.
Cairo's traffic is grueling and horrendous. It took two hours to drive out near the airport, and the stop-and-go was, well, nonstop. We saw a bus of military men get so fed up that they all hopped off, changed out of their uniforms into plain clothes, and started marching the rest of the way along the side of the road, presumably to get to base.
We finally arrived at Herefyeen, the car-repair district on the outskirts of Cairo. The city had moved all the auto mechanics to this area to minimize noise pollution, which seemed like a good idea in principle, but the result has been never-ending traffic of beat-up cars inching toward one concentrated area to get repairs.
The first auto-body shop we stopped at quoted us at 500 pounds (about $80), so we decided to get a few more estimates. We ended up at a shop where the mechanics were covered in fiberglass dust, and we knew we were at the right place.
These fixers make new bumpers from old ones. They take a fiberglass mold of every bumper they can get their hands on so they can reshape a bumper to fit practically any car. Their shop has about 50 bumper molds scattered about. They quoted Omar 250 pounds to fix his car, so he jumped on it.
On the other side of the auto yard was a small shop with a large lathe (a machine tool for cutting objects out of wood, glass or metal) dominating the center of the space. A man with striking white hair was stationed at the machine, making a cylindrical plastic part. He introduced himself as Saleh.
Saleh is a 48-year-old car part repairman. He mends brackets, makes new nuts for tight-fitting spaces, and does other tremendously difficult custom machinery -- all by hand, with a manual lathe and a digital caliper. He says he went to the United States in 1983 to study as a machinist; he has the certificates pinned on his shop walls to prove it. The 1974 Cadillac parked outside his shop (pictured above) is his pride and joy.
This man is a true genius of his craft. The quality of his work is almost impossible to attain without 40 years of training, or hundreds of thousands of dollars of computer-controlled equipment.
Saleh makes good money for his work, and rightly so. In the shop, Mohamed, a parts buyer who works for the Kia dealership downtown, told us that whenever his technicians get stumped and can't find a new part, he goes to Saleh to ask him to create it. God-like.
While we were there, a pair of sewing-machine repair technicians showed up with a bracket that had nuts with stripped threads. Calmly, Saleh took an aluminum rod up to his lathe and fabricated new nuts within minutes. They slipped into the slot perfectly on the first try. Thrilled, the mechanics handed Saleh some cash. He flashed a giant, toothy grin.
We circled back to the bumper repair shop and found Omar's mother's car sporting a bumper that looked good as new. Omar smiled with relief, thanking the repairmen as we got back in the car.
Image: The Fixers.