ATLANTA -- It's easy to miss the Podponics headquarters on Ponce de Leon Avenue. We breezed right by before company co-founder Dan Backhaus came out to the curb to wave us in. To look at their setup--six rust-colored, graffitied shipping containers tucked between a Cactus Car Wash franchise and a halfway house--you'd never suspect this was one of Atlanta's flourishing young startups. But behind the padlocked doors, an urban farming operation is in full swing.
When Backhaus founded Podponics in 2010 with Matt Liotta, the pair had no previous experience with food or farming. Backhaus worked in sales and marketing, Liotta was a software engineer in the telecommunications industry. Liotta's interest in organic food began after he and his wife had their first child, and he decided to direct his passion for technical invention toward finding a more efficient way to grow vegetables. They chose shipping containers as their growing environment because the structures are identical in scale, and can be easily retrofitted for precise control of temperature and humidity. The hydroponic approach would enable them to run their operation independent of available arable land, and without the weight and cost of soil. Plus, the technique lends itself to a computer programmer's mind and a food distributor's logistical demands.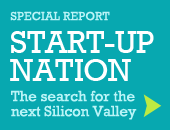 The six containers, or "pods," represent a trial-and-error process through which Podponics found their way to a cost-effective means of production. They're still iterating toward a better way to enter the boxes without disrupting the interior environment. For now, Backhaus pulls open the door they same way a dock worker would, and we stand in an aisle between floor-to-ceiling rows of lettuce, growing through holes in white PVC pipe. The hydroponic lights illuminate the greens like a food styling set.
When Podponics began, they established a farmer's market on the site for selling their yield, but the city cracked down on the ad hoc arrangement so Backhaus and Liotta cultivated more direct relationships with restaurants. They now sell through a local distributor who specializes in farm-to-table products, as well as through SYSCO's specialty produce division, FreshPoint.
As urban farming outfits go, Podponics is exceptionally focused on business viability and growth. They characterize themselves as a triple-bottom line company (people, planet, profit), and indeed the social and environmental benefits of their company are clear, but it's the profit piece that makes them quite unique. I traveled the country last year researching urban agriculture for my forthcoming book, and never encountered a farm that had such a global vision for a company that is all about local production. But the Podponics model aims to be just that--a modular system that could be installed anywhere, from Atlanta to Abu Dhabi. They call it a "local everywhere" approach.
So far their business sense has paid off, and they are in the process of moving PodPonics to a new site across town. After raising $750,000 in seed funding earlier this year, they took over an eight-acre former subdivision site at the edge of the Atlanta International Airport. The city condemned the area after the airport expanded their runways, and the land lay dormant for 30 years. Backhaus drove us over to check out the farm-in-progress, which currently looks like a massive construction site.
A crane was placing new shipping containers on an otherwise barren landscape rutted with huge tire tracks. Backhaus's team all wore yellow hardhats and everyone had to yell over the roar of planes taking off just overhead every minute or so. Despite the location being a terribly unattractive one for residential development, Liotta says it turns out to be pretty swell for plants. The slight increase in ambient CO2 along the jet way has a positive effect on lettuce growth.
These accidental benefits turn up in other ways, too, to make Podponics even more of a closed-loop system than it originally set out to be. They use energy during off-peak hours of the day, which both helps to make the city's power grid more stable, and reduces the company's energy costs. They can even help make the grid more efficient by providing the utility demand response, so when power is needed elsewhere on the grid, Podponics can reduce the amount of energy they're using, allowing the utility not to switch on expensive and dirty peaker power plants.
When the new site gets up and running, Backhaus estimates that Podponics will turn out 40-50 tons of green per year, though with the newly available real estate, they expect to experiment with other crops, which may vary the total weight output. While they could continue to expand many times over within the bounds of their current location, they have designs on a different kind of expansion model.
"Our ultimate vision is to get 80-100 pods next to the Publix distribution center in Florida or the Walmart distribution center," says Backhaus, "so that we can harvest right there in the morning and plug it directly into their supply chain. We're mainlining fresh produce into the regional distribution network."
They are also talking with potential partners in the UAE and Germany, who are dealing with various resource limitations that make this model look appealing. For now, this is a Georgia business serving other Georgia businesses. And while you probably won't spot these shipping containers while visiting Atlanta, you're likely to spot Podponics lettuce on any number of local menus.
We want to hear what you think about this article. Submit a letter to the editor or write to letters@theatlantic.com.
Sarah Rich
is a writer based in Oakland, California, and the author of
Leave Me Alone With the Recipes: The Life, Art and Cookbook of Cipe Pineles.