In Search of the South's Silicon Valleys
The South may not be known for tech startups, but that may be about to change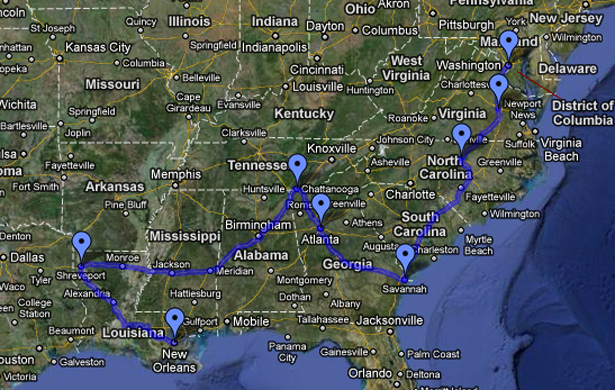 Everyone knows the legendary tech birthing ground of Silicon Valley in California. Situated near Stanford and the port city of San Francisco, it emerged in the middle of the 20th century as the preeminent place to start a technology business, thanks to the hybrid vigor of military research money and countercultural big thinking. A distinctive culture emerged that's led to the creation of thousands of businesses including Fairchild Semiconductor, Intel, HP, Apple, Applied Materials, Cisco, Oracle, Adobe, eBay, Google, Facebook, Twitter, and many more. Today, kids still stream towards the San Francisco Bay dreaming that they will start up next big thing.
Silicon Valley seems to argue for the primacy of place for innovation. It matters where you are, it would seem. But there are countervailing trends. Open source tools, diffusion of programming skill, and the Internet itself mean that you no longer need to live near the people you work with. As importantly, ideas spread more easily than they ever have. If you have an Internet connection, you can follow the latest trends in Internet businesses from the comfort of your home in Omaha or Key West. Not only that, but starting a company in Silicon Valley is expensive and your best people are constantly hunted by poachers.
The obvious synthesis here is to take the lesson of Silicon Valley -- place matters -- and marry it with the new reality that the place can be anywhere. Perhaps other regions can recreate the success of Silicon Valley at a smaller scale, bringing together researchers, young talent, lots of ideas, a risk-taking culture, and venture capital to drive economic growth.
That's the big idea behind The Atlantic's road trip through the South looking for startups and technologies below the Mason-Dixon line. Long caricatured as precisely the kind of place where tech companies could not be born, we're betting that the territories from Richmond to New Orleans are already fertile ground for innovation. Beginning Sunday October 23, we'll be driving through seven cities and bringing you stories from several others that highlight just how much is going on in the South.
We started this project on a hunch. I heard Chattanooga had made gigabit Internet available citywide. What were people doing with that kind of speed? Suddenly, Chattanooga seemed like the future of Internet service. Then Tumblr opened up a second office in Richmond. Richmond? I asked myself. What's going on there? Finally, Moonbot Studios (along with Twin Engine Labs) created my favorite book app
The Fantastic Flying Books of Morris Lessmore
. I started poking around for startups all over the South and almost everywhere I looked, I kept finding interesting ones.
So, we put out a call for southern startups a couple weeks back, noting that Sarah Rich (a seasoned journalist and my fiancee) and I were going to drive through the region beginning October 23. We were flooded (rewarded, really) with hundreds of emails from eager entrepreneurs, local development officials, and just plain helpful people. Now we've got dozens of companies on our itinerary as we explore what it takes to create a company far outside one of the traditional hotbeds of techdom.
We're just beginning to understand all the drivers for startup creation in the South, but I was struck by what Meghan Rosatelli told us about a Richmond company she co-founded with several members of her family,
Optimal Sample Management Solutions
.
"I think that you may find that your article is less about people wanting to start business in the South and more about people who never thought they could start a tech-y business in the first place finding that they can do it in their hometown pretty easily," Rosatelli emailed us. It's that kind of story that reminds me of the power of the Internet. It doesn't make place go away, but it does let you choose where you're going to make your mark.
We hit the road October 23 and will be bringing you stories from Richmond, Raleigh, Durham, Savannah, Atlanta, Chattanooga, Shreveport, and New Orleans. (
Our route is available
.) But we know that we don't have enough time to explore all the cool things going on in southern tech, so we're hoping that you help us out in three ways.
First, if you're an entrepreneur with a company in the South, we'd like to invite you to record your "Creation Story" as an audio clip. In 90 seconds or less, explain how and why you started your company. Then upload that audio to our
Soundcloud dropbox
. We can't promise we'll highlight all of them here on the blog, but we'll certainly call attention to a bunch.
Second, if you represent a region, say the
Greater Bossier Economic Development Foundation
, and you want to make a pitch for your area, whether or not it's on our route, you can write us 300 words and submit it
through this Google Form
.
Third, if you just want to get your startup on our literal map, it's
available here
and editable by all (unless it gets trolled). Feel free to add your company.