How Tumblr Hired Its 3rd Employee, Or, The Luckiest Cold 'Call' Ever
RICHMOND -- Marc LaFountain may be the luckiest man in Virginia. After he got hooked on Tumblr early (he was one of the first 18,000 users), he cold-emailed the tiny team running the site and offered his services doing technical support for the site's bloggers. At the time, Tumblr founder David Karp and developer Marco Arment were running the site as an offshoot from their web design consultancy. They didn't have time to help out the blog platform's mushrooming user base. "I just wrote them and said, hey, I'm one of your earlier and most passionate users and I would really love it if you would give me the opportunity to do tech support for Tumblr. I had a bit of an IT and support background," LaFountain told us. "Tumblr can be such a weirdly informal company in so many ways. David and I traded two emails and we had one phone call -- and I bet the phone call didn't even last ten minutes -- and we decided that OK, I'd work for Tumblr part-time doing support even though we'd never met or even videoconferenced."
LaFountain kept his day job doing PR for a state agency and worked for Tumblr on nights and weekends. In April of 2008, with Tumblr growth skyrocketing, LaFountain traded some more emails with David Karp, and by the end of the exchange, he'd become their "one-man tech support shop." He'd just become the third employee of one of the hottest startups in the country without ever having met anyone from Tumblr face-to-face.
Fast forward a few years and now 18 people (11 full-timers 7 consultants) work with LaFountain out of the Richmond Tumblr office supporting people in more than half a dozen languages. LaFountain said that Richmond's a great place for finding support talent. The Fortune 500 companies that are or have been located in the area mean that there are a wide variety of people with some IT and tech support experience from whom he can draw.
While it's accidental that Tumblr has a large presence in Richmond, there's nothing about the firm's offices there that seems thrown together. Located at the Corrugated Box Building, an old factory that used to make cardboard boxes that was beautifully renovated by Richmond's 3 North Architects, the office plan is open and fun. A dartboard is encased in a special Tumblr box, and a mannequin named Russell sits off to one side (naturally, he has a Tumblr, too). Beautiful skylights pour sunshine down onto a big table and a bunch of desks loaded with Macs.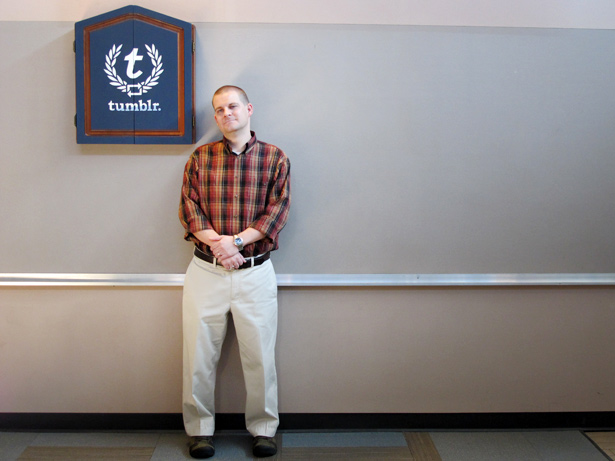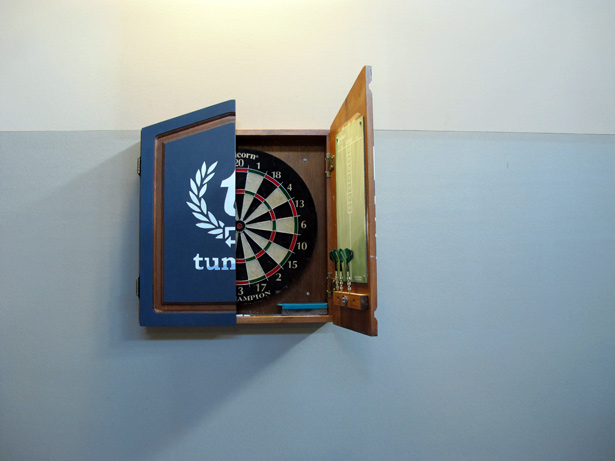 Images: Alexis Madrigal/The Atlantic