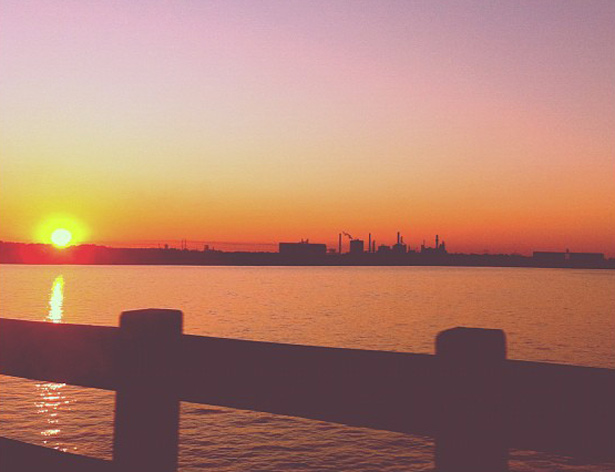 We rolled into Savannah yesterday just in time to catch a brilliant red sunset over the river that divides South Carolina from Georgia. With about ten minutes to spare before our first big meetup, we dropped our bags at the city's oldest hotel, and followed our iPhones to the nearby headquarters of Creative Coast. The eight-year-old organization is a hub for local entrepreneurs, artists, geeks and freelancers, and Executive Director Jake Hodesh had pulled together a lively group of them to talk with us about Savannah's startup scene. 
Before arriving Jake characterized the Creative Coast community as a "more mesh-back trucker hat than suit and tie crowd," and as promised, one wall of their event space was lined with trucker hats designed with the organization's logo (we took home two). It was a fantastic evening, and we met dozens of fascinating, creative individuals. Below is a sampling of Savannah's latest ventures and ideas, and there will be a few more to come in the next few days.  
Tour Buddy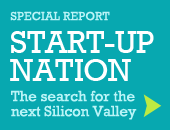 Yvonne Jouffrault lived in Atlanta, Boston and Paris before moving to Savannah with her husband. The former real estate investor wanted a smaller town in which to raise a family, and she found the right scale and culture here. Jouffrault's love of her adopted city shines through in her nascent tech startup, Tour Buddy, which began as a guided walking tour of Savannah. The original app features an 18-stop, GPS-enabled tour of the historic area, from 1733 to the present. Having received positive feedback on the first product, Jouffrault launched a version of the tour for kids, and then began thinking of other locations and institutions where her concept could be used. Her app inventory now includes tours of Civil War sites in Alexandria, VA, a historic farm in rural Georgia, and a cultural facility in Florida. In addition to creating her own apps, she intends for her platform to be licensable to clients who need an easy way to create an audio app for their companies.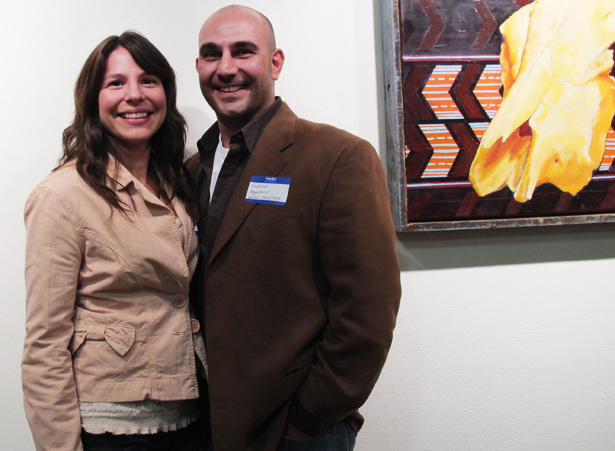 Metal Pressions
The husband-and-wife team behind Metal Pressions had a clever way of showing us what their company does. Elisha and Andreas Argentinis brought us a tiny box containing a keychain engraved with "The Atlantic," and the magazine's founding year. Their company produces personalized jewelry and accessories and sells them through an online store--but in order to distinguish themselves from the numerous other eretailers in their category, they take the personalization process a step further. Not only do customers get to choose what words to stamp on their bracelets or tie clips, they get to design the actual pieces themselves. Elisha spearheads design development for the company's in-house line and assists buyers who need some artistic direction, while Andreas takes care of the technical and business side of things. It's a mom and pop venture, but it's grown big enough to provide a sustainable livelihood for the couple and their two kids. 
TalentSoup
Talent Soup is a matchmaking service for businesses looking for talent and models looking for gigs. It's an attempt to disrupt the way the existing talent agencies work, Radford Harrell, the company's founder said. The inspiration for the company came from Harrell's wife, Emily, who runs a production company and struggled to find people from specific, small demographic groups. The database launched in 2006 and now has major clients like Turner, Southern Company, and Samsung.