Digital Excavations of Ancient Analog
Physical documents can be incredibly durable, retaining ancient information through earthquakes, fires, and damage by insects and molds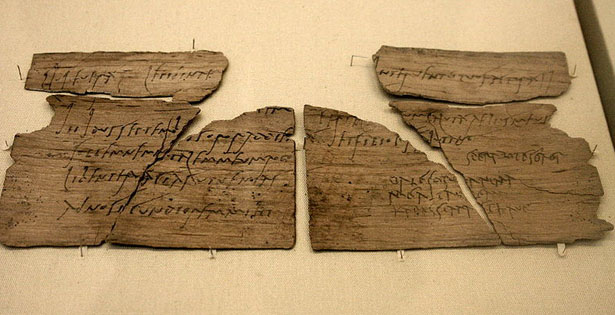 Wikimedia Commons
One of the greatest cultural triumphs of our time has been the technological recovery of large areas of antiquity once thought lost, though advanced imaging techniques. The
Dead Sea Scrolls
are the best known and possibly still most important, but not the only ones. The
Vindolanda writing tablets
let us eavesdrop on the official and private correspondence of a Roman garrison on Hadrian's Wall.
The Walters Art Museum in Baltimore has spent ten years revealing the manuscripts of Archimedes recycled nearly 800 years ago by a monk in Jerusalem to provide parchment for a prayer book. The Wall Street Journal describes what was required:
Just removing the binding and separating the 174 fragile folios took four years alone, followed by countless hours of carefully lifting mold and dirt. The worst: Removing the paintings of saints, which lay atop the prayer book writing, which in turn lay atop the Archimedes undertext.
 


When a team of four digital-imaging experts from around the country began submitting folios to different wavelengths of light -- infrared and ultraviolet, among others -- it quickly became clear that no single wavelength would adequately reveal the vestigial ink of the undertext. The team eventually devised a composite wavelength, and the palimpsest began to give up its secrets.
The payoff was stunning, even in the light of the hype surrounding the original auction of the manuscript. Two of the Archimedes treatises were unique:
One addresses the concept of absolute infinity; the other, combinatorics, a segment of math that plays a role in statistical physics and modern computing. No one knew Archimedes had ever broached either subject.
There was also a commentary on Aristotle and lost speeches of a celebrated orator. And countless scrolls of the Villa of the Papyri in Herculaneum, Italy, buried by the eruption of Vesuvius, have yet to be excavated.
All this is a great tribute to conservation and imaging science. But it's also a reminder of how incredibly durable analog media can be, retaining information through earthquake, fire, scraping, and damage by insects and molds. In desert conditions, even older documents have survived, like a 3,200-year-old dream book from Deir el-Medina, Egypt. And the study of the new Archimedes treatises are likely to deepen our admiration for what ancient thinkers were able to accomplish with the technology at their disposal.