A Visual Guide to Atlanta's Startup Scene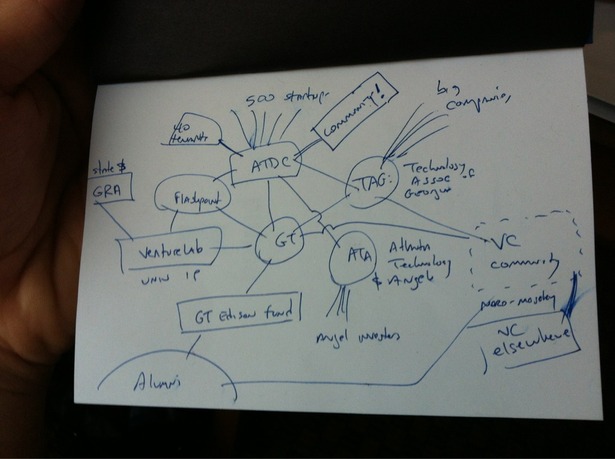 ATLANTA -- There is a very definite center to the Atlanta startup scene: it's the Starbucks located at 5th and Spring, just across I-85 from Georgia Tech's main campus.
"Most of the cool startup stuff is happening within half a mile of here," Stephen Fleming, a long-time venture capitalist and technologist who runs GT's Enterprise Innovation Institute, told me.
We met at an event organized by a constellation of Atlanta startup community groups -- Startup Chicks, Atlanta Startup Drinks, Startup Riot, the Advanced Technology Development Center --  and sponsored by MailChimp, an email marketing startup that I've actually used myself.
The city's entrepreneurs made an impressive show of force. Dozens of them came out to talk about their ventures with us -- and with each other. We were blown away by the number and variety of startups, particularly in a town where there are just a handful of venture capital firms. We'll have individual profiles of several companies going up in the next day.
I was also impressed by the number of groups here providing support for startups. The array seemed dizzying, so this morning, I asked Fleming, is always triple-booked, if he's not quadruple-booked, to draw me a quick map of Atlanta's startup ecosystem. Let me walk you through it.
At the center sits Georgia Tech, which should surprise no one. The students and faculty are technologists and they have a lot of ideas for products and companies. The university has built some structures around that including the Advanced Technology Development Center, run by Nina Sawczuk, and VentureLab, directed by Keith McGreggor. VentureLab works directly with professors to spin companies out of their research. ATDC is a little different. It's the longest-lived startup accelerator in the country. While they are open to working with all of Atlanta's approximately 500 startups, they provide office space and more intensive services to a smaller group of companies. (The main offices are about 100 feet from that Starbucks.)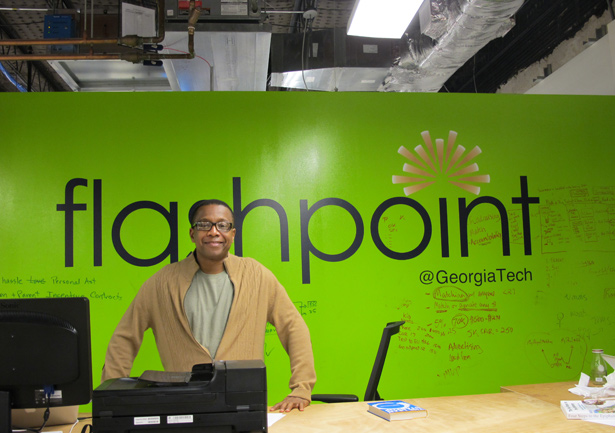 Most recently, Georgia Tech created Flashpoint, which as an attempt to run a YCombinator like incubator on a college campus. They have a beautiful space that is across the street from the Starbucks. We met a very promising entrepreneur in their inaugural class, James Harris, who has just created N4MD ("Informed") to enable curators to create social magazines. The service allows anyone to automatically create a good-looking magazine from curated content, and Harris wants his product to be the platform that monetizes that curation.
"We think the curator nation is going to develop and someone is going to have to help them make some money," Harris said.
It's fascinating, too, that as magazines struggle for coherence online, curators are taking the individual stories publications produce and turning them into focused, niche products. Harris said that a Google executive, for example, wants a publication about yarn bombing, where knitters go out and knit around real-world objects in the middle of the night. No one could ever devote a publication to such a niche phenomenon, but there is someone out there who could curate one.
Media is a hot topic for other Georgia startups. This is, after all, home to Turner Broadcasting. We particularly liked the Savannah-based startup rappidapp, which takes the coding out of developing simple mobile apps. We actually wish we'd known about them before the trip because we could have created an app that would have let you track the entire Startup South odyssey.
The demo we saw was actually an app they built in a single night for the VentureAtlanta conference, which is going on this week. That conference provided a much-needed opportunity for local companies to get in front of investors.

This post was written within 100 feet of the Starbucks at 5th and Spring.