A Road Trip Through the South's Tech Startup Landscape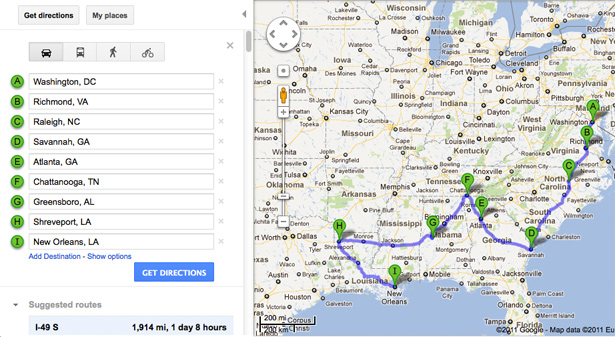 You hear about Silicon Valley and Silicon Alley, the tech scenes of Chicago and Austin and Cambridge, but what about the south? With most tech journalists located in the northeast and California, startups south of the Mason-Dixon line don't get enough attention.
Here at The Atlantic, we think that's unfair. In an increasingly Internet-connected world, we reckon great ideas (and interesting companies) can get going anywhere, Palo Alto or Shreveport, lower Manhattan or Chattanooga.
To test that hypothesis, we're going to be running a special report this month looking at startup regions around the country and then focus in on the South with a week-long road trip from DC to New Orleans from October 23 to October 30. That's our route up there. We're heading down through Richmond and Raleigh to Savannah, then across Georgia to Atlanta. From there, we're heading to Chattanooga, making a quick stop in Greensboro and sprinting across Mississippi to Shreveport. The last leg of the trip will take us diagonally across Louisiana to New Orleans. (The tentative
full schedule
is here.)
Accompanying me will be
Sarah Rich
, a former
Dwell Magazine
senior editor and managing editor of
Worldchanging
, who has written for The Atlantic, GOOD, Fast Company, Wired, and Gourmet. She also cofounded
Longshot Magazine
with me and happens to be my fiancee. (Yes, I am aware this is the greatest work assignment ever.)
We know a few of the companies we're going to visit. We love
Moonbot Studios
in Shreveport, which feels like the next Pixar. We know we want to meet up with the Savannah
Creative Coast crew
(not to mention visiting Savannah College of Art and Design). In Chattanooga, there is Medium and widespread gigabit Internet that must be spawning other local startups. Tumblr's second office opened in Richmond, not too far from The Martin Agency. We're planning meetups in Savannah and Atlanta and are thinking about others.
But we need your help! If you're an entrepreneur in or near one of the cities we're visiting, we want to hear from you. Why'd you decide to start your company in the south instead of one of the innovation megaregions in California or New York? What are the advantages you find? And most importantly, what's your company trying to do? What's your big idea?
Get in touch with us via Twitter (@alexismadrigal, @sarahrich) or email me. We look forward to hearing from you with company, destination, or food recommendations.