You Are What You Link To: The Norwegian Gunman's Manifesto
A look into the links of Anders Breivik reveals how our web wanderings shape what we know, how we think, and who we are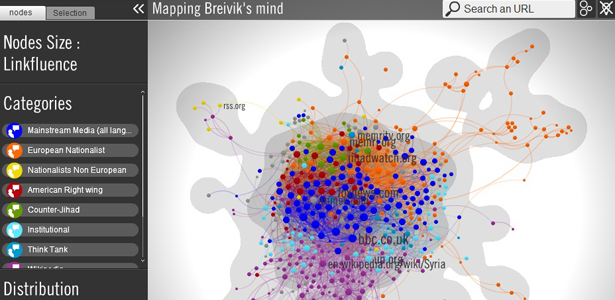 The Internet may seem to stretch out in an endless sea of links, but for the most part, each of us clicks away within a just a few small neighborhoods. Those places where we spend our time -- the personalized mix of favored news sites, food blogs, sports team pages, or what have you -- reflect who we are. We create these streams in service of our personal interests, but they also create us. We learn from them, explore their interlocking ideas and voices, and even communicate with the other people we meet there.
An interactive graphic on The Guardian's website demonstrates this idea with a tragic and disturbing example: an exploration deep into the mind -- and by mind I mean the trail of links -- of Norwegian gunman Anders Breivik. The graph, produced by a French company called Linkfluence, charts the sites linked to in Breivik's 1500-page manifesto and the surrounding ecosystem of like-minded pages, revealing "a subculture of nationalistic and Islamophobic websites that link the European and American far right in a paranoid alliance against Islam and is also rooted in some democratically elected parties," The Guardian's Andrew Brown explains. You can click a particular "node" and see how it connects to other parts of his web universe.
So it gives us a picture of a sick part of the web, but what does it tell us about Breivik himself? Brown writes that though the picture "clearly mirrors Breivik's self-image," he was already radicalized before he went looking for ideas on the Internet. The Internet didn't somehow do this to him, but he interacted with it in a way that at the very least reinforced and perhaps even catapulted his existing hatreds.
This dance between identity and the Internet is not just the province of madmen. We explore who we are online, and the trails we leave behind are telling.