Will Children Save Printed Books?
E-books are targeted towards working adults, and kids tend to shy away from trends that are popular with their parents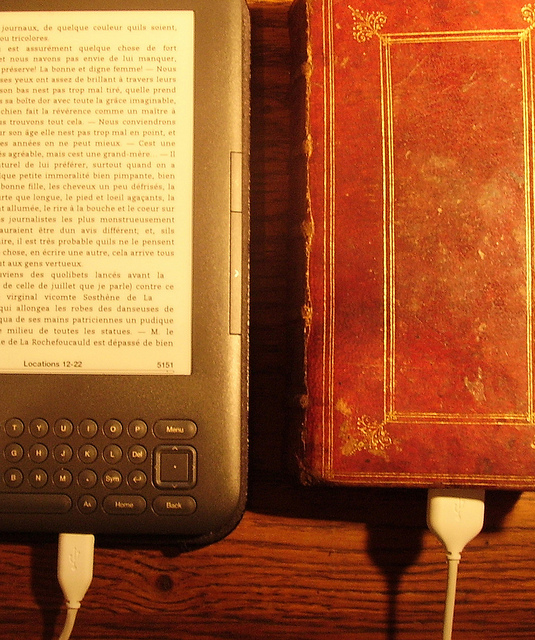 Will the new generation of digital natives finally see print off? That's the consensus of many e-book enthusiasts and elegiac traditionalists alike. And it's plausible. But there's another conceivable model, just raised by the Canadian writer David Bidini in the
National Post
:
[O]ne of the reasons e-books won't destroy the book world is because almost anyone I know who owns a Kindle or similar digital device is over 40, and because they're over 40, the same kids who begat Napster and file-sharing of rock 'n' roll will run as far from the phenomenon as possible. When Grandma's seen reading her space age digi-book, junior will do the opposite. In fact, kids may save books, instead of destroying them. I hope it happens. I know my kids read books, and they read them lots.

While all kinds of statistics on the so-called Millennials can be cited on the other side, the scenario isn't so far-fetched. Who in the 1950s would have thought that organic farming would ever return? Or that bicycles and electric cars would be trendy again? Or in the heyday of 1970s men's fashion and hair styles, who would have imagined that the
Mad Men
look, symbol of an overturned, repressive culture, would be
sending so many wide neckties
to Goodwill?
Not that generational pro-book rebellion is inevitable. Nothing is. But most of the professional futurists I've met are really in the business of alternative scenarios. This is one that's definitely possible. And that should help encourage friends of print not to let inevitability talk get them down.
Thanks to Dan Bloom for the link.
Image: Flickr/Remi Mathis.