Why WD-40 Is Called WD-40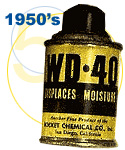 We celebrate the big inventions all the time, but what about the little ones that make getting along in the tech-heavy world a little easier? Take WD-40. Its manufacturer claims you can use it for 2,000 tasks from repelling pigeons to untangling jewelry chains. I would also note (but not recommend) that paired with a long-handled lighter, it makes a hell of a DIY flamethrower. A product like WD-40 is basically a flexible app for the material world and it makes everything else run a little better.
The product's origin story is fantastic, too. WD-40 was created by three engineers at a fledgling aerospace outfit in San Diego with the awesome name, "Rocket Chemical Company." It took them 40 attempts to perfect the formula, the current head of innovation at WD-40 noted last week, and that's why the product is called WD-40. Water Displacement, number 40.
The first use for the product was sealing Atlas Missile's outer skin from rust and corrosion. It was only after employees snuck out some of the stuff to use at home that they thought about commercializing the formula.