Why the Real Threat to Journalists Isn't Automated Writing
Artificial intelligence is a small problem for the news world-- the real worries of the Twitter-era are over-saturation and lack of funding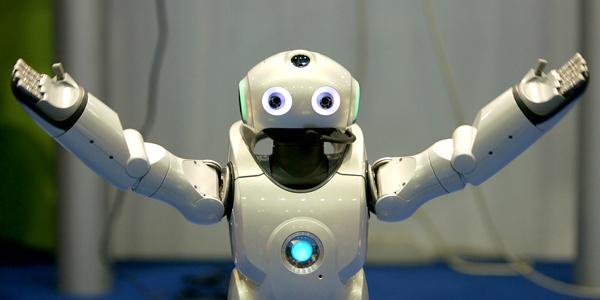 Reuters
Will the Pulitzer Prize for 2016 be awarded to a computer program? In the time-honored tradition of
necessary hype
, that's the prediction of one of the academic entrepreneurs behind a startup offering automated writing services to hard-pressed newspaper and magazine editors.
John Lavine, the dean of the Northwestern's Medill School of Journalism, which is participating in the project with its Intelligent Information Laboratory, is quoted by Steve Lohr in the
New York Times
: "This kind of technology can deepen journalism." Yes, cynics might counter -- by about six feet.  It certainly wouldn't do if students started to believe their tuition was going toward making themselves obsolete, but there's a case (as Dean Lavine and the founders believe) that computer-human journalism could improve the product.
After all, as I've suggested in
the Atlantic
, computer chess analysis has helped develop the game. Artificial intelligence writing programs may also have a possibly unintended beneficial effect, showing how much typical journalism, including a lot of technology writing, is so formulaic a computer could do it. It might debase the product but it could also challenge writers and editors to aim higher. Elite reporters and newspapers are safe if only because they will always have priority access to most key sources, who are unlikely to respond kindly to automated e-mail interview requests.
The big issue for reporters, editors, and publishers isn't automated text generation. It's the explosion of free human-authored content on the Web, just as the problem for established chess professionals in the U.S. -- as I argued -- has not been computers themselves but the rising number of world-class players emerging especially in Eastern Europe and Asia, thanks to Web-based access to databases and strong human and machine sparring partners.
The
Wall Street Journal
brought this out in a piece on the turmoil around Yahoo:
Making money off digital content isn't easy and it's getting harder.

As Web traffic explodes, Internet companies are struggling to profit off ads shown next to the articles, videos and other content offered to viewers.

It's a simple rule of any market. The more information that is created, the more the value is reduced. And despite attempts to woo spending with bigger, bolder and more targeted ads, services that help consumers navigate that content, namely search, remain the big money makers online.

"People tell me that content is king, but that is not true at all," says Rishad Tobaccowala, chief strategy and innovation officer at Vivaki, the digital-media unit of Publicis Groupe SA. "Most people make money pointing to content, not creating, curating or collecting content."

The article's graphic sidebar, for example, noted over 1,000 articles indexed by Google on the firing of Yahoo's CEO Carol Bartz. As another
Journal article
by Carl Bialik notes, "each piece of information, on average, gets less exposure today than in the past." The challenge of all paid content, human- or machine-driven, free or paywalled, is rising above the background noise of similar ideas and overlapping facts as accessed by search, just as a professional photographer must offer something unavailable from even a skilled amateur, or a stock service.
Yet working against this is another trend, noted by yet another
WSJ
columnist, Gordon Crovitz, quoting the economist Tyler Cowen:

"When access is easy, we tend to favor the short, the sweet, and the bitty. When access is difficult, we tend to look for large-scale productions, extravaganzas, and masterpieces." Mr. Cowen says, "The current trend -- as it has been running for decades -- is that a lot of our culture is coming in shorter and smaller bits."

In other words, careful and uniquely human writing will be unread, while McProse -- of which there's such a human-produced glut A.I. programs are almost superfluous -- will thrive. That's a sobering alternative to the utopia of cyborg human-machine journalism. The most likely result of the new technology is a further division of writers into a few with brand identity and an even more pressed majority, some of them at least equally talented.
Back to that Pulitzer prediction. Given the growing capabilities of
automated educational grading programs
my own prediction is that by 2016 the Pulitzer decision itself will have been outsourced to a machine called Big Joe.